A Message to Our Students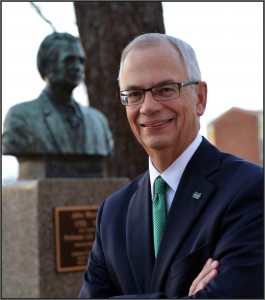 File Photo
Dear Sons and Daughters of Marshall,
Having students back on campus is always an inspiring time for me. Your energy, ideas and enthusiasm for a brighter future are both palpable and contagious, and I look forward to another year of helping this university guide and prepare you to make this world a better place.
We at Marshall University take that role very seriously, and there is work to be done, both inside and outside of the classroom. This year, I want us to have conversations about respect and civility. Last year, we had a number of sessions called "Campus Conversations" developed by our provost, Dr. Gayle Ormiston, to talk about civility. We also had a number of discussions called "Sit Downs" for students, led by the Office of Student Affairs.
In these interactions, we had honest discussions around respect, race and inclusion. I also made it a point to speak out against sexual assault. We incorporated many of these topics in our interactions with incoming freshmen during WOW. In light of what happened recently in Charlottesville, Va., I hope we can continue our dialogue. I want us to talk about what is responsible action when we encounter someone with whom we strongly disagree.
Our First Amendment guarantees free speech, and we will not censor or suppress thoughts at Marshall. We also will not tolerate injustice, violence or hatred. A natural reaction to extreme positions, right or left, is often to respond in anger at the individual, particularly when there is hate involved. I hope we can come to a common understanding that it is acceptable to be passionate about your views but unacceptable to respond in anger to opposing views. Civility and respect are part of our core values here at Marshall, and I want all our students to be familiar with the Marshall University Creed, which states these principles quite eloquently.
Coming to a point of intellectual, professional and social maturity takes time, and we are here to help guide you. We want you to be objective, rational and open-minded citizens who have respect for all people and who exhibit tolerance. I can tell you that I have witnessed a lot of unpleasant things in my life when it comes to race and respect, and I now have a strong commitment to standing up for injustice whenever I see it. As educated people, we have a duty to defend what is right and uphold the principles on which our country was founded.
You may have heard me say I am a proponent of exercising brotherly love and helping those who are in need of an advocate. One of my favorite quotes is from Dr. Martin Luther King Jr., who famously said, "Darkness cannot drive out darkness; only light can do that. Hate cannot drive out hate; only love can do that."
I want our campus to be a place where we are all part of the Marshall family and where we are brothers and sisters—Sons and Daughters of Marshall. Strong and healthy families are characterized by love. I want that to be the case for our Marshall family.
And as for me as your president, I am choosing love as the answer. I look forward to our discussions and interactions this semester.
Sincerely,
Jerome A. Gilbert, Ph.D.
President