Senator Bernie Sanders returns to West Virginia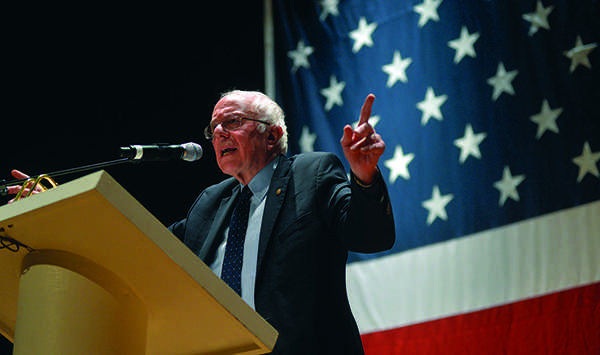 "Feel the Bern" was once again a chant that West Virginians would shout outside the steps of the Charleston Municipal Auditorium. The Vermont Senator and former presidential candidate Bernie Sanders spoke to over 2,000 West Virginians Feb. 12 to promote his new book and continue to push his message of progression.
The event was mainly centered around issues that states like Vermont and West Virginia both face. Drugs, environmental issues and health care were at the top of the list of Sanders' speech. 
Sanders is known for being the left's political outsider who built his campaign through a grassroots movement that asked supporters for only a $27 donation. The campaign grew enough steam to rival Hillary Clinton in the June primaries, also winning the state of West Virginia in the process.
As Sanders took the stage, he was greeted by a roaring standing ovation. His last visit to the state brought him to Big Sandy's Superstore Arena back in April.
Originally, Sanders had planned to go to McDowell County to host a "town hall meeting" to address the problems the town faces with opiates, unemployment and healthcare.
Sunday afternoon, the West Virginia Department of Military Affairs & Public Safety released a statement saying they would not host Sanders.
"U.S. Department of Defense policy does not permit the use of military facilities for political and election events and specifically includes town hall meetings as an example of such activities," the statement read. "The West Virginia State Armory Board has a similar policy."
Sanders addressed the cancelation at the beginning of his speech.
"It appears that along the line that someone made a decision that we could not use the armory that MSNBC had secured," Sanders said.
The crowd responded with boos, but Sanders reassured the crowd that he would be coming back to McDowell.
"We held a very moving town meeting, and during a campaign you hold hundreds and hundreds of town meetings, but that's one that was memorable for me," Sanders said. "Because as all of you know that part of the state has a whole lot of problems in terms of high unemployment, in terms of very serious opiate addiction, schools not adequately funded."
Sanders said he was inspired by the courage shown by those facing adversity in McDowell.
"I was enormously impressed by the dignity and the courage of the people there who stood up and talked about the issues, who talked about the new future and that moved me very much," Sanders said. "And we're going back to McDowell County."
Sanders also addressed the new administration in the White House. He said President Donald Trump knew how to sympathize with the working class in the mountain state, but said Trump wasn't genuine about most of what he said.
Sanders said Trump is not keeping his promises. He said Trump told his voters he's going to take on the establishment, the Republicans and Democrats and take care of the working class of America.
"Now the truth is, it's a good speech," Sanders said. "The bad news is he never meant a word of it."
He addressed issues such as the "Muslim Ban," Trump's border wall and not having a viable replacement for the Affordable Care Act, also known as Obamacare.
The last half of the night, he spoke about his book, "Our Revolution." The book begins with his life growing up in a poor family in Brooklyn, New York. Sanders said his upbringing gave him an understanding of what it is like growing up poor and helped him relate to many other Americans who struggle financially every day.
He then spoke about his career in Vermont and grassroots politics. Sanders talked about his perseverance in politics, saying that when he first ran for governor he got two percent of the vote.
Sanders actually dropped to under two percent the second time he ran for governor, but continued to run until he decided to run for Mayor of Burlington, Vermont, the largest city in the state. He only won by 10 votes.
Overall, Sanders ran for governor four times, garnering 6 percent of the vote the last time. The idea centered around talking about his career, was to say that anyone can and should be involved in politics.
"Democracy is not a spectator sport; I know in West Virginia you all love your football and basketball and those are spectator sports," Sanders said. "But democracy is something everyone should participate in."
"I think everyone should get into politics in some form or another," said Marshall student Julieanne Batten, who was at the event in Charleston. "Whether it is just trying to find some local cause or a community group to help in any way they can."
Sanders said he will continue to push to have the town meeting in McDowell County, so that the senator can hear the citizens' views, complaints and try to find a way to help them.
Tom Jenkins can be contacted at [email protected].
View Comments(1)
Your donation will help continue the work of independent student journalism at Marshall University. If you benefit from The Parthenon's free content, please consider making a donation.