DOCUMENTING HUNTINGTON
Witek discovers unseen photography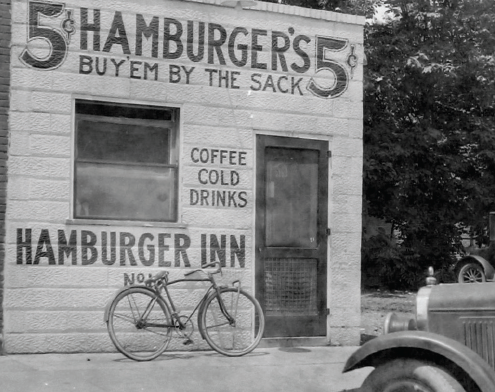 Hang on for a minute...we're trying to find some more stories you might like.
About three years ago, John Witek stumbled upon an old cardboard box at an estate sale that would change his and many others' lives.
"A picker found them before I did, but I knew that this man bought things in Huntington and sold them at the Chesapeake, Ohio, flea market." Witek said. "So I staked out the flea market for a couple of weeks, and lo and behold, the box of photos."
Witek bought the box for $50 and found more than 1,000 prints and film negatives dating back to the early twentieth century.
"I could see that these were old," Witek said. "You know, old buildings, people in old fashioned clothes—but it wasn't until I got them home and made my own light box, photographed the negatives, and then put them through a computer program that turned them into positives— that I saw how great these photos were."
After further research, Witek and Novak found that the photographs were taken in and around Huntington by a man named
Levi Holley Stone, a working class man, who's work went largely unpublished in his lifetime.
The subjects of his photographs are widespread. Some feature friends and family, others are strangers or people he just happened to encounter. Still more photos feature striking landscapes, and historical events such as President Theodore Roosevelt's visit to Huntington in 1912 and the floods of 1913 and 1937.
"They showed the city as it was, but most important of all, they showed people," Witek said. "Most photographs of that period, people were very formal, they were very stiff and rigid…but Stone was able to photograph his friends, and it is pretty clear that he had a very good repertoire with people."
Deborah Novak, Witek's wife, said the way he was able to capture people is what makes his body of work stand out.
"There are working class people," Novak said. "People who would not have normally have had their picture taken are in these photographs, and they are alive and they are in their environment and they are in their element."
Some of the photographs were shown in 2013 at the Huntington Museum of Art in an exhibit called, "Looking Back: Huntington Through the Lens of Levi Holley Stone." It was at this event that the suggestion of authoring a book of the photographs came to Witek and Novak's attention, in the form of a comment in the guestbook.
"One of the happiest parts of this discovery was that the museum agreed that these were very special photos," Witek said. "The fact that they were willing to have a show, and they were very pleased with it that was a good part. People at the show kept saying, you should make a book, and Arcadia agreed."
The introduction to the book describes this collection as fitting into the over-arching theme of anonymity associated with Stone's work.
"It seemed fitting that an anonymous critic should bestow such a glowing tribute on a hitherto anonymous photographer," Witek and Novak say in the book, "Huntington: The Levi Holley Stone Collection." "During his lifetime, even Stone's relatives and closest friends had not realized that some of his photographs were works of art. If not for a flea market discovery and the museum's recognition of Stone's gift for composition, those photographs might have remained anonymous and unseen."
The Huntington Museum of Art recently hosted a digital screening of a presentation of the photographs along with a book signing.
Huntington High School student Noah Legrand said he found many of the photos intriguing.
"I think it is really interesting to look into some of our local history, and how big Huntington used to be," Legrand said. "It is really cool to see Teddy Roosevelt, you know, famous figures that you learn about actually in the streets that you know you walk in everyday."
Huntington resident Mary Plydebell said she thought the presentation was exciting.
"Tom and I came up earlier in August to see the still pictures at the museum and that was sort of fascinating," Plydebell said. "To think about finding something that old, and I can't even imagine how patient you would have to be to make it come alive like they have."
One patron in particular had an interesting connection to the body of work. Victoria Powell, photographer and great granddaughter of Stone, said seeing the photographs still excites her.
"Last September, they had the gallery opening and I pretty much found out about it when everybody else did," Powell said. "It was awesome because I never knew about any of this. He died the year that I graduated high school in '81, and I never heard any talk of any of these pictures or anything."
Since finding out about her great-grandfather's gift for photography, Powell feels a special connection to him since the rest of her family never spoke of his work.
"I guess they were never really involved in art or anything, but I really am," Powell said. "I feel like maybe I got my gift from him, I don't know, maybe it skipped a couple of generations."
Even if not by blood, people seem to feel a special connection to Stone's
photographs, a fact that Novak said is the most rewarding part of the project.
"I see people who have lived in Huntington a long time," Novak said. "They come up to me and say, 'I know where that Hamburger Inn was, it is on 10th Street between 6th and 7th Avenues, it is not there anymore,' or 'I know where this picture was taken on 3rd Avenue, over there would be Pullman Square.' So, they see what it was and in their minds' eye, they know what it is today. It is very special for people who have lived in Huntington a long time, as I have. We can see the changes and our progressions which makes these photographs so exceptional, because this is Huntington in a way that you have not seen Huntington ever before."
Emily Rice can be contacted at [email protected]