Faculty Senate takes a stance on campus assault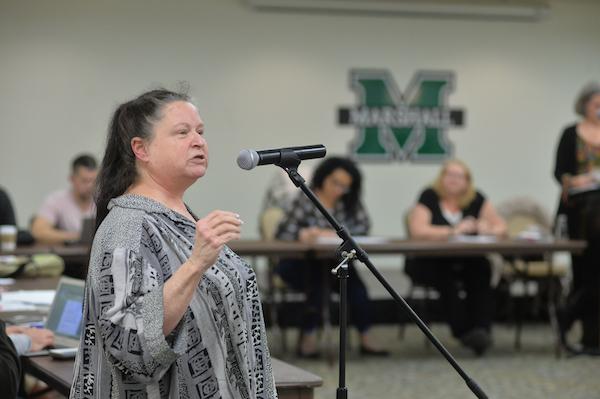 In light of campus sexual assault cases across the country and even here on Marshall University's campus, the faculty senate has passed a new amendment that will protect Title IX and the safety of students during a Faculty Senate meeting Thursday afternoon.
The amendment however contains wording that some Faculty Senate members found troubling. Wording within Policy No. SA-1 includes the phrase "Students are generally entitled to the same safe-guards of the rights and freedoms of citizenship as are afforded those outside the academic community." Many Senate Faculty members fear that students who speak with mental health counselors on campus won't have their privacy adequately protected.
Pamela Mulder, a professor of psychology, spoke out against the amendment, saying that the word "generally" did not properly protect students who speak with counselors.
"My problem with the wording is the word 'generally' doesn't really mean anything, somebody could come in and say 'oh, well, I didn't give them privacy, but it was generally not needed.' I don't think that specifies it clearly enough, so somebody could use any excuse at all and say it falls under 'generally' unless we specify what goes under there," Mulder said. "I'm in the field of psychology, I'm a clinical psychologist and all I have to work with anybody is what they are willing to share with me and if people aren't willing to come forward and tell us that they have a problem because they're afraid there might be repercussions from it, the word 'generally' doesn't save them."
Lisa Martin, the director of Student Conduct, believes that passing the amendment was appropriate because there were many items within the code of conduct that were improved and that the inclusion of the word "generally" is sufficient enough in protecting students' rights. She believes that passing the amendment was the right decision.
"They will understand their rights and responsibilities as students here at Marshall University, so yes, I think that was the right decision," Martin said. "I think the word 'generally' is an interpretation for most people and it's interpreted how other people interpret it. I can assure students that counselors are not going to be violating their right to privacy unless they are harming themselves or they are a danger to other people."
Martin also stated the amendment was drafted by a committee including counselors as well as the director of equity programs and their associate general counsel.
Paige Muellerleile presided over the meeting and said the amendment passed with 29 Faculty Senate members voting for and 21 voting against.
"I was persuaded by Paige's argument that we needed to get something done immediately, this is a Title IX violation and it had already taken long enough so that was more persuasive to me," said Jamie Warner, professor of political science, who voted in favor of the amendment. "I wish we would have had more time, that we wouldn't have been in a time crunch to think a little more. I also think that we're asking you to trust the mental health counselors that they know when they could do it or not do it, and they're trained professionals so we have to put trust in them."
Warner also stated there might still be time to make a wording change at another venue to take the word "generally" out of the code of conduct.
Adam can be contacted at [email protected]
View Comments(1)
Your donation will help continue the work of independent student journalism at Marshall University. If you benefit from The Parthenon's free content, please consider making a donation.