Marshall hockey returns home for meeting with Dennison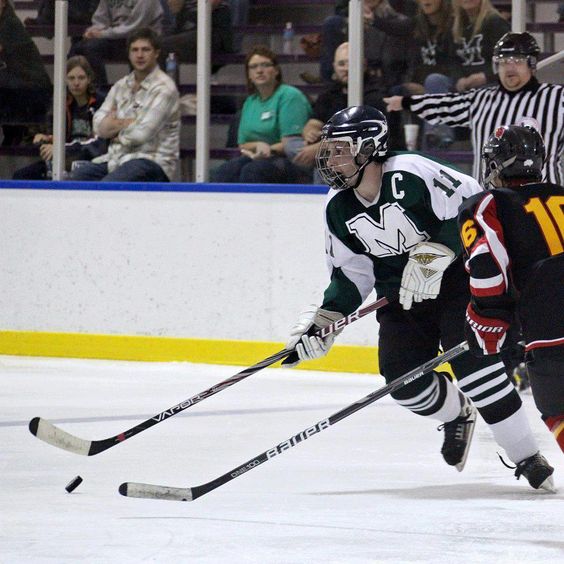 Following a 15-2 road loss at the hands of Wheeling Jesuit last weekend, the Marshall men's ice hockey team returns to South Charleston Friday night for a meeting with the Big Red of Dennison University.
Despite this being the first meeting between the two schools this season, the Herd are familiar with the Big Red, to say the least. Marshall faced off against Dennison last season, falling on the road in Granville, Ohio.
"We've played them before," senior captain Steven Macuch said. "They're a well-rounded team, they're good on the offensive and defensive ends, so it's going to take a well-balanced effort on our side, on both ends of the puck, to keep up with them. They're a good team, they were solid last year when we played them before, so we don't expect anything different."
Confidence is still high heading into Friday night's matchup, despite the Herd coming off a loss. Macuch attributed the defeat to the team's lengthy trip up north. Marshall was also down a handful of players who missed due to class conflicts.
"We just didn't travel well," Macuch said. "Some of our guys had school things to take care of our jobs to take care of, but we're always resilient. We always gather around each other and pull through, whether we have 10 guys on the ice, or 22."
That attitude, according to Macuch, has been vital to the Marshall hockey team this season.
"It's huge," Macuch said. "If you go into a game and you have a bad attitude about it, you're not going to play well. You always try and go into a game with a good attitude, a good outlook, ready to play, excited to play, because if not, you're not going to start well and it's only going to get worse from there."
Heading into this week, head coach Jake Davis emphasized breaking out from the defensive zone. As Macuch said, the team has struggled at times, especially when the puck finds its way near the boards down low in the Herd's own zone.
"We worked a lot on our breakout," said Macuch. "We've had trouble breaking out the puck, especially down low in our own zone…we worked on our power-play. We had a couple opportunities that we didn't capitalize on, so we just wanted to implement and capitalize on those moments."
With the season coming to an end following Friday's contest, the team emphasized the need for high attendance numbers come game time, which they say helps the team operate at peak performance.
"It's our final home game of the year," Macuch said. "We're looking for people to come out and support the Herd…You can definitely feel the momentum more. Fans play an important role. It gets you blood flowing, adrenaline flowing and gets the team pumped up to play, so it definitely plays a key role."
Marshall's final home game takes place at the South Charleston Memorial Ice Rink in South Charleston, W.Va. Puck drop is set for 8 p.m.
Jake Griffith can be contacted at [email protected]
Leave a Comment
Your donation will help continue the work of independent student journalism at Marshall University. If you benefit from The Parthenon's free content, please consider making a donation.