Justice inaugurated as 36th governor of West Virginia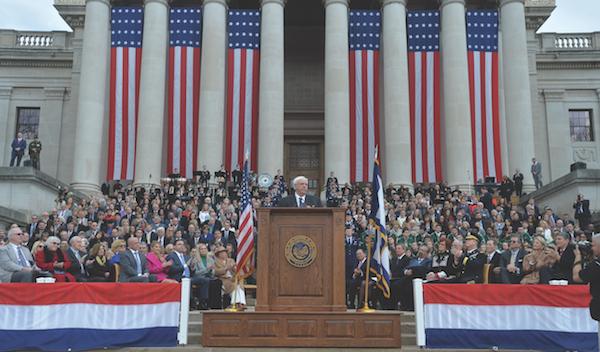 Jim Justice took the oath of office Monday at the West Virginia State Capitol, becoming the 36th governor of West Virginia and pledging to usher in a new era of prosperity for the state through jobs, hope and opportunities.
Promising a speech that would be a "a little bit different," The Greenbrier resort owner and businessman spoke to his audience with down home sincerity, vowing to forego the typical limitations of politics to make progress within the state. Throughout his inaugural speech, Justice touched upon the Mountain State's numerous problems, such as the shrinking workforce, declining education and raging drug epidemic.
Teachers, Justice said, are underpaid in the state, making it difficult to fill classrooms with qualified educators. The problem with education, Justice suggested, is that there are too many bureaucrats in the school system. Though Justice was not explicit on his goals for education, the new governor said that he has an education reform package he plans to submit following his inauguration, which will eliminate "unnecessary agencies" and "look at education in a different way."
In addition, Justice shared his hope that the state will welcome more competitive fields of work, so that young people who wish to stay in West Virginia aren't forced to move elsewhere because of a lack of opportunities.
"We need to provide a place for our young people who want to stay to have the opportunity to stay," Justice said.
Justice  stressed the need for jobs and revenue in the state, with natural resources, crops and tourism at the forefront of his plan to revitalize the state financially. Justice also reinforced his support for Donald Trump, citing his positive acquaintance with the family and his belief that Trump will bring opportunities to West Virginia.
Early in the speech, Justice revealed to his audience audience a tackle box and an ax which he said he purchased from a woman in Jesse, a small community in Wyoming County. The woman, he said, was "selling her life away, the memories, to maybe just have enough money to buy food." Justice gave her $100 for each of the items, both of which he keeps in his car to remind him of the woman's struggle.
"Mister, you don't have any idea how bad I'm hurting," Justice said the woman told him.
Justice also had strong words about the state's overwhelming opiate problem.
"We have a drug epidemic that is absolutely cannibalizing us," Justice said. "And whatever we have to do to stop it, we have to do."
At his inauguration, Justice had plenty of support from his home county. In attendance were members of the boys and girls basketball team he coaches for Greenbrier East High School, as well as students from Greenbrier County elementary schools. The Greenbrier Entertainers were also present, closing out the ceremony with a rendition of "God Bless America."
Members of the House of Delegates and State Senate filed onto the inaugural platform moments before Justice arrived, with U.S. Sens. Shelley Moore Capito and Joe Manchin joining them moments later. Former governor Earl Ray Tomblin spoke before Justice, offering warm words and support for the incoming governor.
Following the event, Justice received the public in the Capitol's Lower Rotunda and capped off his inaugural day with a ball at the The Greenbrier in White Sulphur Springs.
Jared Casto can be contacted at [email protected]
Leave a Comment
Your donation will help continue the work of independent student journalism at Marshall University. If you benefit from The Parthenon's free content, please consider making a donation.