Knowledge is Power
Student reaches for the stars with multiple degrees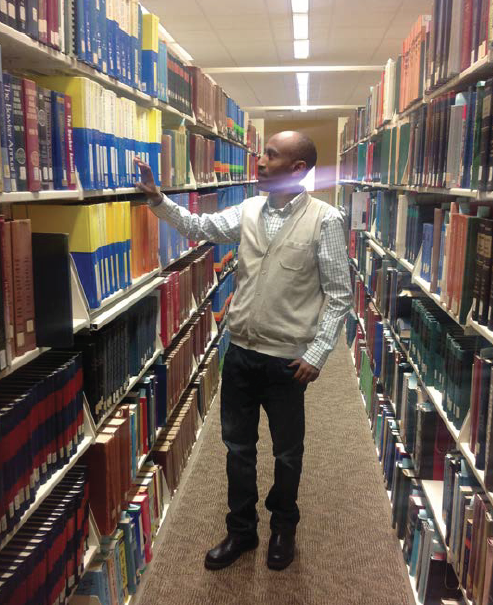 J'Leigha Long, Reporter
November 20, 2014
"Stopping at one degree just wasn't for me," said Mengistu Jima
from Addis Ababa, Ethiopia.
Mengistu Jima first began his college education at Marshall University
in 2010 in the LEAP program, which has since become a
part of INTO Marshall.
"I came across a cultural shock when I first came to Marshall
University because people were so free, they expressed their feelings,"
Jima said. "So, I had to adapt. Now I am free to be free."
Jima said she chose to attend Marshall when a friend, who also
attended the school, recommended it to him.
"I learned about West Virginia through the song, 'West Virginia
Mountain Mama' by John Denver," Jima said. "The song described
it as a beautiful place, so I researched schools, and Marshall was
my choice."
Jima said he came to the United States to see if the education
was different from his home country.
"The difference between the education here, and the education
in Ethiopia, is here in the United States, they'll give you feedback,
and that helps you advance in your profession," Jima said. "It helps
you critique. In Ethiopia the professor gives you a lecture, then
you are the one to memorize it. Here, there are two people communicating
back and forth, instead of it just being the students
responsibility to teach themselves the lesson."
Jima got his bachelor's degree in geography and environmental
study in 2004, a bachelor's degree in foreign language and literature
in 2008 and a minor in political science. He also has a degree
in adult and technical education.
Jima is currently working on his second masters in environmental
science and geographic information systems. He plans to
graduate in May.
"You can never get too many degrees," Jima said. "When I came
to Marshall University I told myself I could do all things I set my
mind to."
J'Leigha Long can be contacted at [email protected]