Forty-six years later, time stands still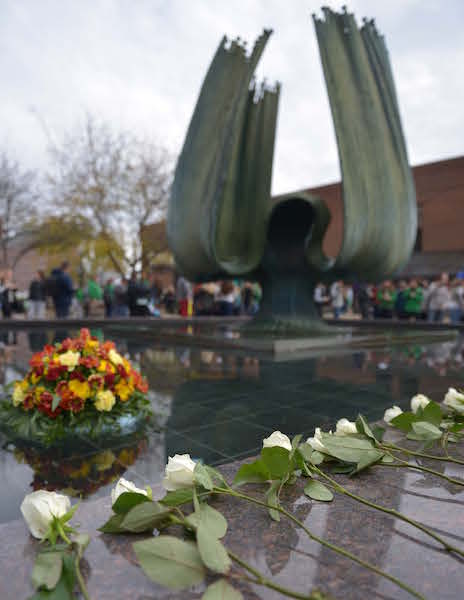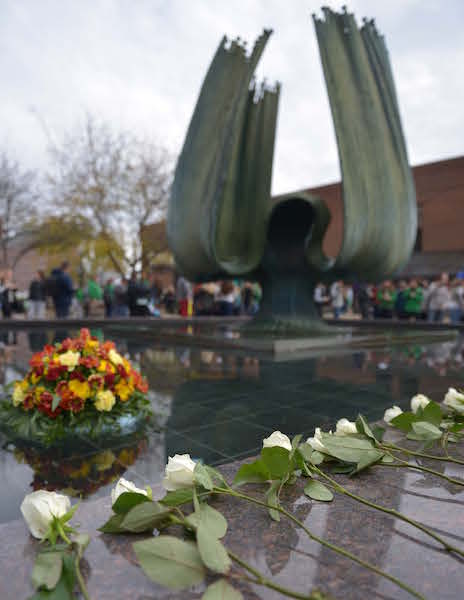 "And in this moment once every year, throughout the town, throughout the school, time stands still."
These words from "We Are Marshall" ring in the ears of every Huntingtonian when November comes, year after year. If you asked, many would tell you exactly where they were and what they were doing the evening of November 14, 1970.
Regarded as the largest sport-related tragedy in history, the crash of flight 932 from Greenville, North Carolina altered the future of Marshall University and the Huntington community. Seventy-five players, coaches, benefactors and crew lost their lives that day. Forty-six years later, Marshall University continues to remember "the 75" and the legacy they left for generations to come.
Many students, administration, faculty, alumni and members of the community gathered around the 6,500-pound, 13-foot tall fountain on the Memorial Student Center Plaza Monday, and alumnus Dennis Foley told his Marshall story. Then the water to the fountain was turned off.
"On Nov. 14, 1970, Marshall stopped being a university — we became a family," said Matt Jarvis, student body president. "This [ceremony] really shows how closely knit our community has become."
Jarvis said people wonder how the younger generations of Marshall students feel about Nov. 14, and that for future students the phrase "We choose to remember" is more applicable than "We will never forget."
Marshall alumnus and former interim C.E.O. of the Marshall Foundation John Kinzer and his wife Betty Sue said they started attending the November ceremony around 10 years ago.
"We didn't come for a while,"  Kinzer said. "But once we realized how special this was, we haven't missed a year since."
"Some people think this ought to be stopped," Betty ssaid. "But when you see the kids, the students, turn out like this, you say, 'You're crazy.'"
The Kinzers said they were in Beckley the day of the crash, and they hurried back to Huntington after several phone calls from their friends. They were rumored to have been on flight 932.
Member of the 1969 Thundering Herd Dennis Foley was supposed to have been on the flight as well, but due to an injury, he was unable to play the 1970 season.
"For me, this is the greatest honor of my life," Foley said. "When I accepted a football scholarship in 1969, little did I know how it would change my life."
Foley recounted his time at Marshall, practicing with the varsity players and staying late to work on plays. He was getting off the elevator in South Hall when two of his friends told him flight 932 had crashed.
Unable to reach the crash site that evening, Foley returned to his dorm and called his parents the next day.
"I'm so glad I called my mother; I had been listed with those who had died," Foley said. "Reporters had contacted my family, asking questions about their dead son."
During Foley's time of grief, he met a girl who he said "understood him and was there for him."
They got married in the Campus Christian Center three months after graduation and have been married for over 40 years.
After graduating from Marshall, Foley avoided the university for 30 years. He refused to speak of his college years, and he denied ever attending Marshall. When "Ashes to Glory" played at the Keith-Albee Performing Arts Theater, Foley decided to attend. That day, he said, changed him forever.
"I began initiating conversations about Marshall," Foley said. "I didn't shy away when someone asked me about the crash, and I was no longer hiding my past."
Nov. 14, 2016 was the first time Foley had shared his entire story, from beginning to end.
Director of Athletics Mike Hamrick said he also remembers his past as a "skinny 13-year-old who dreamed of one day playing for the Herd."
Hamrick said after the loss of the 75, quitting was the "easy way out." He praised the university for never giving up hope.
"We have a story that no one else has," Hamrick said. "Their loss was not in vain; it has helped this great university into national prominence."
After a 42-17 win over Middle Tennessee on Saturday, Marshall football head coach Doc Holliday held back tears when he spoke about "the 75 others with [them] on the field."
"I saw it in the eyes of our players Saturday, when they put on those special black uniforms for this time of the season," Holliday said. "I saw it when they put on those white helmets and tapped the sides, praying for the men who had come before them. I saw it when we locked arms and walked out on the field together as their names flashed on the screen."
Holliday reminded the audience that "today is bigger than football; it's bigger than all of us."
Several members of the 1971 "Young Thundering Herd" were present for the ceremony, including Bob Compton.
"I was recruited by a lot of different schools," Compton said. "I was nervous to attend Marshall, because I didn't want to try and fill someone else's shoes. Then I saw that Marshall needed me. I have never felt more welcomed and wanted by a university."
Compton teared up as he saw the number of current students in attendance to the ceremony. He said he was so thankful students have continued and welcomed the tradition of remembering the past.
President Jerome Gilbert has said before how he appreciates preservation of tradition, and Monday was no different. Gilbert attended his first fountain ceremony as president of Marshall University.
"Last year I came to this ceremony as the newly named president, but I was a president in waiting," Gilbert said. "This year I come with a deeper knowledge and feeling, I've seen the story of this community, our community."
Brooke Estep can be contacted at [email protected].
Leave a Comment
Your donation will help continue the work of independent student journalism at Marshall University. If you benefit from The Parthenon's free content, please consider making a donation.