Marshall men's soccer heads to higher altitude this weekend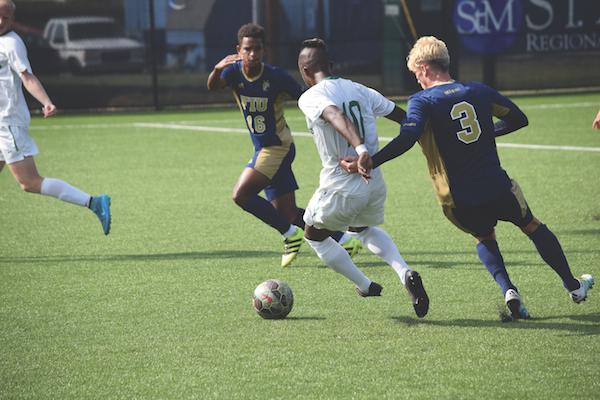 The Marshall University men's soccer team will travel to play New Mexico University for their second to last road trip of the season. This is the fourth remaining game on the schedule.
"It is a cross country trek for us," assistant coach Thomas Olivier said. "Traveling late in the season impacts our players' fatigue, so we have to prep the trip correctly."
One factor that may affect the men's team is the pure travel distance from Huntington. The total distance will be about 1,500 miles. That distance is almost 1,000 miles longer than the second most distant trip, which was for a conference game in Birmingham, Ala.
A different aspect will be the elevation change too. Huntington sits at 564 feet above sea level officially. Albuquerque is massively higher, officially at 5,312 feet above sea level just eclipsing the one-mile mark. The oxygen in the air will be reduced and place a massive emphasis on the Thundering Herd's conditioning.
The trend for Marshall has been struggling away from Huntington. The Thundering Herd have won only one game outside Huntington. That game was at Charleston, Illinois against Eastern Illinois University back in early September.
The Lobos boast an overall record of 7-5-0 but are just 1-3-0 in conference play. The Lobos are scheduled to play a game prior to the contest Saturday, traveling to play at Denver University.
New Mexico is led in goals by Niko Hansen. Hansen is not only leading the Lobos in goals, but also paces Conference USA with nine, and in points with 19. He has added to his already potent offense by tallying one assist.
"Every team we've played in conference has had at least one special player that we have to be careful with," Coach Olivier said about Hansen. "We need to have a good plan coming in at not only slowing him down, but slowing down their potent offense. They score a lot of goals, and have not lost at home."
Individual statistics drops off significantly after Hansen though. Only five players besides Hansen have scored this season. The most after Hansen, is by Chris Wehan with three. The remaining four players combine for six goals. Although dependent on Hansen, the 18 goals rank third in Conference USA for team goals.
While the Lobos are above average offensively in Conference USA, the team plays great defense too. They have allowed only nine goals in 12 games. Only one team in conference has conceded less in the same amount of games played.
These combined facts have led to an undefeated home record, 6-0, for the Lobos but the team is currently on a two game losing streak. That coupled with Marshall winning in Albuquerque two years ago will provide ample motivation for New Mexico and an enormous test for Marshall.
The next men's soccer home game is scheduled to be played Oct. 26 against Old Dominion University and will be one of two remaining home games. Kickoff is scheduled for 7 p.m.
Joseph Ashley can be contacted at [email protected]