Don't put religion over unity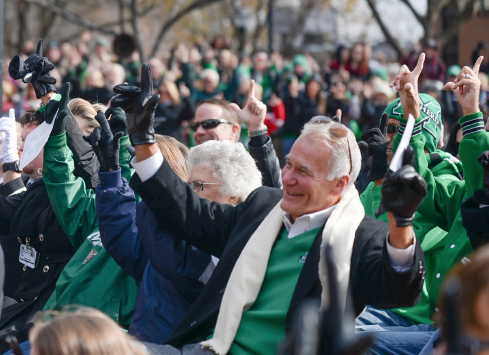 Editorial
November 16, 2014
Hang on for a minute...we're trying to find some more stories you might like.
The 44th annual Memorial Ceremony to honor the 75 Marshall University football players, staff and members of the community lost in the Nov. 14, 1970, plane crash was a wonderful commemoration of sacrifice and celebration of rebirth.
Overall the ceremony was beautiful. The biggest crowd many of us can remember surrounded the fountain, and our undefeated, nationally ranked football team was present to lay roses around the memorial.
But there was a small potential turn-off laced throughout the entire ceremony. As beautiful and well executed as it was, the entire production had a bit of a religious tone.
Yes, religion and memorial go hand-in-hand, but the ceremony should not be treated like a funeral or a religious ceremony.
Chaplain for the football team, Rev. Steve Harvey's speech, in its defense, represented more than just a religion connection. He brought attendees to the locker room with the team through his demonstration. It was not about praising a higher power to the majority of participants, but it was about a communal experience, all of us—fans, students, alumni and athletes—together as one.
The prayer itself, however, was a less communal choice. Though not truly offensive, and easily understandable considering Harvey's relationship with the football team, a moment of silence, in which every person in attendance or watching the livestream could make his or her own decision as to how to pay tribute, would have been a more all-inclusive choice.
The song Taylor Isaacs and Rodrigo Almeida performed so beautifully, "It Is Well With My Soul," also may have contributed to the ceremony's tendency to cross into unnecessarily religious territory. Though well meant, the lyrics of the song, particularly reference Christian salvation as the source of all peace. True or not, the song suggests there is only one way to peace after tragedy and creates a solemn environment rather than one that honors the lives of the 75.
We, understandably, live in an area where ceremonies like the Memorial Ceremony all have a religious undertone. But at what point do we decide the potential for turning people away because of that religious affiliation overpowers the need to include it?
The Fountain Ceremony is one of the best moments in a son or daughter of Marshall's experience with the university. It is about coming together as one, and the sometimes overly religious nature of the ceremony threatens to take away from that—a sad reality in 21st century world in which we live.