From football to the future, Gilbert enjoys it all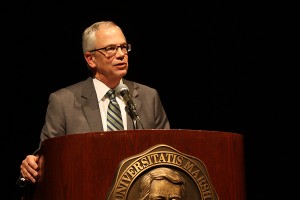 President Jerry Gilbert's interests this fall vary from football, to family and future plans for Marshall University.
"I'm a freshman president," Gilbert said, laughing. "It's exciting to be on campus in the fall because it's a new beginning."
Gilbert said he continues to learn new things throughout his presidency, but he said he is not learning so many things now as he did in the spring semester. He said he has fit well into the routine of the presidency.
A self-proclaimed extrovert, Gilbert said he enjoys afternoon walks through campus, chatting with people along the way. As a resident of the South, Gilbert said he has always been interested in the university community and its social atmosphere, especially football.
"I've been in university since 1973, football is a big part of that," Gilbert said. "I'm excited for this season."
President Gilbert said he enjoys meeting new people and interacting with students. He said something he looks forward to is going to the student center plaza at noon and seeing all the business.
"Everywhere I go, people reach out to me," he said. "I think the freshmen feel like they know me. I like when students stop and talk with me."
Gilbert's southern hospitality also extends through his excitement for the upcoming investiture and for the arrival of his family to West Virginia.
"The thing I'm looking forward to the most is the ceremony," Gilbert said. "There will be some very special people there, some great people who have helped me in my career."
Some of Gilbert's guests will include the president of Mississippi State University, his family —including his 94-year-old mother — and other close friends from undergraduate and graduate school.
"For the university, I hope it's more about the office than it is about me," Gilbert said. "It's a celebration of the university in a sense that it's one of the traditions. I want it to be a sense of a tie to the past."
Gilbert said he wants to emphasize the service events that will be a part of the investiture process, hopefully continuing to invest Marshall in the community.
The investiture events are aimed to demonstrate all the programs that Marshall University offers. Gilbert said he wants to use this time as a way to build up Marshall's image in the area.
"I do want people to recognize Marshall as a special place and the quality of the programs here," Gilbert said.
"I want people to see Marshall University as a university that cares," he said. "I want to build on community involvement — from the Huntington community, to the West Virginia community, to the United States community."
In the beginning of his presidency, Gilbert announced his goals for the university, which stem from the desire to gain prominence locally and nationally, hopefully increasing enrollment and retention rates.
"People should see there is a long legacy of excellence and traditions, and there is a strong commitment to the students here," Gilbert said.
"It'll be a slow evolution as we become more engaged, but I want our students to leave with a self-awareness that they can make a difference," he said. "I want Marshall to take a stand and recognize that we can help our state."
Through service learning programs and increasing involvement in the community, both local and national, President Gilbert said he wants Marshall University and its programs, from football to fife and drum corps, to be recognized and praised.
Brooke Estep can be contacted at [email protected].
Leave a Comment
Your donation will help continue the work of independent student journalism at Marshall University. If you benefit from The Parthenon's free content, please consider making a donation.