Honor thy brother
Tom Shoebridge returns to Huntington as speaker at memorial service for his brother and 74 others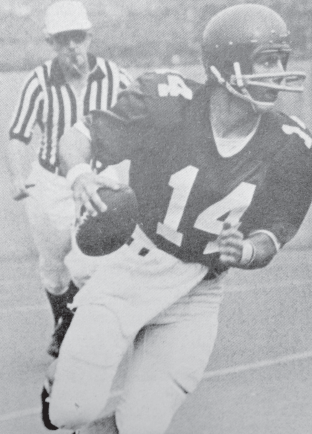 Tom Shoebridge was 17 years old when the Marshall University football team's plane crashed and took the life of his brother Ted Shoebridge.
Ted Shoebridge was quarterback at the time and had broken many records and received many honors in just two seasons with the Thundering Herd.
Tom Shoebridge was not able to travel to Huntington a lot during his brother's football career, as he himself played high school football and was dreaming of playing at the next level like his brother.
Tom Shoebridge said the day the plane crash occurred was the day he was playing in his high school football championship game.
"My team lost the game, but my friends and I decided to go to a dance that was being hosted after," Tom Shoebridge said. "At the dance, a local fireman came and found me and told me something had happened with my brother and I must go home. When I pulled up to my house, I remember my front yard being covered with hundreds of people. When I went inside, my mother was sitting on the couch with her two sisters, and that's when I found out my brother had died."
Tom and Ted Shoebridge grew up in Lyndhurst, New Jersey. After college, Tom Shoebridge returned to Lyndhurst and became a coach for the football and track teams, as well as a physical education teacher at the high school where he and his brother both attended.
Tom Shoebridge attended college at Kansas Wesleyan University, played football, and got his degree in physical education.
"I was very blessed to have such strong parents," Tom Shoebridge said. "To let their second son, eight months later, go away to play college football was unbelievable. As I got older, I saw how hard it was for them to send me away to college. I was very thankful to my parents for the opportunities they gave me."
After the crash, there was some discussion of Tom Shoebridge attending Marshall, but his parents felt it would be best for him to go in a different direction – his direction – and follow his dreams.
During Ted Shoebridge's time as a Marshall football player, his parents would travel to Huntington from time to time to watch games, making many friends throughout the years.
Tom and Ted Shoebridge's parents visited Huntington the Easter after the plane crash. It was the first time either of them had ever flown on a plane. They flew into Tri-State Airport, the same one their son was intended to fly into Nov. 14, 1970. They visited a few people, and after their visit, they never returned to Huntington until 1990, 20 years later.
"My mom kept in touch with Coach Dawson all the time," Tom Shoebridge said. "He was a saint and comforted my mother and father many times."
In 1990, Ted Shoebridge was inducted into the Marshall University hall of fame.
"My parents had mixed emotions about returning to Huntington after 20 years," Tom Shoebridge said. "My parents were amazed how Huntington and Marshall University had never forgotten those who died that day and how much they are cherished. It was a rebirth of why my brother
to Marshall. Everyone that was lost wasn't forgotten."
Years later in 1999, Tom Shoebridge began contacting people that had known his parents. They had since died.
Tom Shoebridge's visit to Huntington in 1999 was when Marshall was going to be playing for the MAC Conference championship game. He then returned to Huntington again in 2000 for the 30th anniversary of the plane crash, 2006, 2013 and this past September. This time, he is returning as the speaker of the Memorial Fountain Ceremony Friday.
"Everyone has opened their doors for me," Tom Shoebridge said. "I feel so welcomed and now I have many good friends in the athletic department, as well as the football coaches."
Tom Shoebridge says his brother would be unbelievably proud of the university, from how far it has grown and all the great educational opportunities that Marshall offers.
"I think my brother and his teammates are looking down on the university everyday," Tom Shoebridge said. "They would be proud to say they were Marshall University football players."
Tom Shoebridge said he will never understand why his brother had to be taken or why anyone had to lose their family members that day.
"When you get knocked down, you don't want to get back up," Tom Shoebridge said. "But to build this university back up and where Marshall University is today is remarkable.
Tom Shoebridge said this has been a very inspirational story he shared before the "We Are… Marshall" ever came out.
"As a coach, I have shared many triumph over tragedy stories, and the Marshall University story is one I have shared many, many times with the kids I have coached," Tom Shoebridge said.
"I believe everyone that was lost that day in 1970, that it was somehow their purpose in life, even though it was such a tragic event," Tom Shoebridge said. "The players never got to finish the job they came to Marshall to do. Their hopes and dreams were to get the football team and the university where it is today."
Hannah Sayre can be contacted at [email protected]