Trump supporters take to roofs
More stories from Ryan Fischer
A handful of Donald Trump supporters took to the rooftop of a parking garage in protest of the Bernie Sanders rally at the Big Sandy Superstore Arena Tuesday.
Kayla Hammond, from Wayne, West Virginia, came to voice her support for Trump, holding a sign that read, "If you can feel the Bern, you have chlamydia."
"If it weren't for our military, we wouldn't have our freedom," Hammond said.
The group of five shouted and flashed various Trump messages to the passersby and those waiting in line for the Bernie Sanders rally at the Big Sandy.
Sixteen-year-olds Trevor Napper and Dustin Perry from Wayne shouted "vote for Trump" in unison at times, attracting honks of approval and the sarcastic "yee-haw" alike.
Napper said after eight years of the Obama administration, his values do not reflect the same "socialist" path that candidates like Sanders or Hillary Clinton propose.
"He's shut down our coal," Napper said. "I used to travel to Tennessee and everywhere you'd go you'd see coal trucks hauling coal everywhere. I just went to Tennessee a week ago and I didn't see one coal truck."
Perry said he and his family were only negatively affected by Obama's policies related to the Appalachian coal industry.
"Trump is wanting to bring the coal back," Perry said. "Most of the candidates don't understand when people say West Virginia needs coal, when other places need coal."
Napper said he feels similarly uncomfortable with Republican Ted Cruz due to his mistrust with Congress members.
"I think he's a liar," Napper said. "Not off what Trump said, but me personally. He's been in congress way too long."
Perry said keeping illegal immigrants out of the United States is one of the main factors that make Trump a strong candidate to him.
Both Perry and Napper said they are strong supporters of the building of a wall between the U.S.-Mexican borders, making "build the wall" their go-to Trump reference throughout their protest.
"I don't hate the Mexicans," Perry said. "If they actually need the help and actually need a job they just need to come over here and work how we work and pay taxes."
In addition to stemming the flow of people, drugs can also be culled from the market in this way according to Trump's campaign.
"We'll be 20 by the next election," Napper said. "Whoever is elected now we will have the chance to vote for again, so I think we should have a say."
Ryan Fischer can be contacted at [email protected].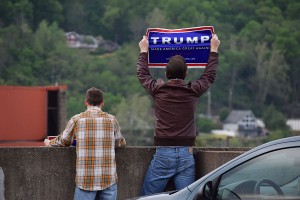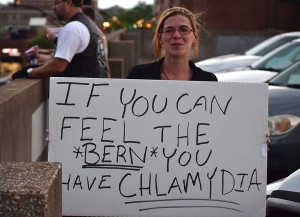 View Comments(1)
Your donation will help continue the work of independent student journalism at Marshall University. If you benefit from The Parthenon's free content, please consider making a donation.