10th Annual ATO goes homeless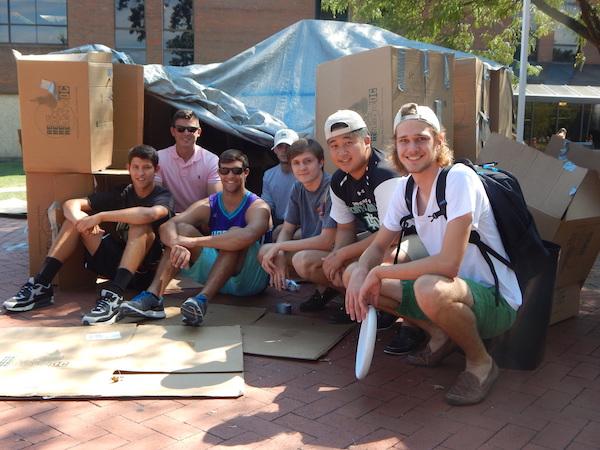 Alpha Tau Omega Fraternity raised awareness for The Huntington City Mission beginning on Aug. 29 and ending Sept. 2 on the Memorial Student Center plaza.
For one week every year, ATO "goes homeless" and has around nine members camp out in boxes on the Memorial Student Center Plaza each night, according to member Scott Tezza.
"You just gotta feel for them and feel what they're going through," Tezza said. "You have to try and help them out with their pain that they're going through."
During the event, the plaza becomes host to a complex of cardboard boxes that is seated on a large portion of the square's east edge.
Members stay inside the cardboard boxes on a voluntary basis for single nights at a time, according to Jordan Babbington, a student rushing for ATO.
All proceeds raised by the fraternity go to the city mission, which helps support Huntington's homeless population.
"We don't keep any money, it's all there," said Tezza.
Tezza said the members also make trips to the city mission's headquarters.
Babbington said it is up to the fraternity members to stay on the plaza.
"We stay in here for six hours and then we have the privilege to go back to a tower or an apartment, and take a shower, have a meal and go on with our day," Babbington said.
Last year was Alpha Tau Omega's most successful year for the event, with the chapter raising $2,150 for Huntington City Mission. This year, they have a goal of doubling that and raising $4,000.
Ryan Fischer can be contacted at [email protected].
View Comments(1)
Your donation will help continue the work of independent student journalism at Marshall University. If you benefit from The Parthenon's free content, please consider making a donation.