Marshall partners with USA TODAY to make new media app for more accessible news
More stories from Ashley Sodosky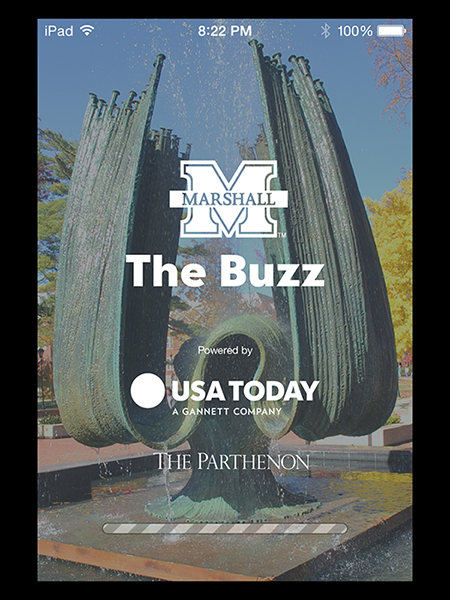 Marshall University, partnered with USA TODAY, recently unveiled a new media app geared toward students and the university.
USA TODAY partnered with various staff members, including the Student Government Association, Housing and Residence Life, University Communications and various campus medias, to develop a more accessible form of news for students.
The app, The Buzz, features national news from USA TODAY, college national news and campus news specific to the university from student media.
Tiffany Davis, communications specialist in the university's Communications office, said she believes the partnership is a good match for Marshall students.
"We know that technology is really important to students," Davis said. "We want to make sure that we are providing news and information to them in ways that they want it."
The USA TODAY College program began 18 years ago, delivering newspapers to college campuses and then expanded to a new portion of their website, college.usatoday.com, which features content written by-students-for-students. USA TODAY then started a move to better target the digital generation of college students with the launch of The Buzz.
Suzanne Lipscomb, part of the USA TODAY College national team, said the company understands the way students consume news has changed due to technology.
"Just like national news rooms, campus media outlets are reinventing themselves and looking for ways to expand their voice and audience reach beyond print," Lipscomb said.
"
"Just like national news rooms, campus media outlets are reinventing themselves and looking for ways to expand their voice and audience reach beyond print.""
— Suzanne Lipscomb
"The USA TODAY newspapers on campus were picked up by faculty more than students and the university wanted news to become more student friendly," Davis said.
Lipscomb said The Buzz gives students access to authentic information when, where and how they want it.
The Buzz launched at its 1st set of universities last year. Marshall's app launched its trial year in August and is 1 of 50 schools that offer the app.
Since August, the app has been in testing and in the coming months it will be promoted more heavily. There have been more than 225 downloads with positive feedback from users, including Ben Heil, Senior nursing student.
"I like it," Heil said. "It's definitely more accessible. It's easier to wake up and read articles, rather than go and get the paper."
As the app continues to grow, a campus ambassador will be appointed through USA TODAY to help with promotion and feedback.
"We understand campus cultures are different everywhere," Lipscomb said. "What better way to promote The Buzz to Marshall University students than having one of your own."
The Buzz features national news, updates from University Communications and full access to The Parthenon through the app. The app replaces mass copies of the physical paper but USA TODAY newspapers will still be available in Harless dining hall.
The Buzz app can be downloaded through the app store on both Apple and Android systems.
Ashley Sodosky can be contacted at [email protected].
Leave a Comment
Your donation will help continue the work of independent student journalism at Marshall University. If you benefit from The Parthenon's free content, please consider making a donation.