INTO Interview
More stories from Jared Casto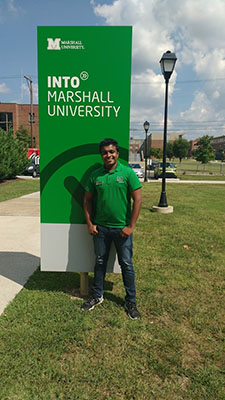 Kasun Wijayagurusinghe is a sophomore accounting major and INTO student worker from Sri Lanka. Wijayagurusinghe has lived in American for almost two years and chose to come to Marshall due to the versatile INTO program and the radically different climate from Sri Lanka. Sri Lanka's adoption of western culture has made Wijayagurusinghe's transition to living in America very easy. In his free time, he enjoys traveling and devoting his time to charities. After graduating, Wijayagurusinghe will be pursuing his CPA and studying for his master's degree in another country. He also hopes to eventually work for an NGO (non-governmental organization) so that he can help people on a broader scale.
Q: How long have you been in America?
A: Almost two years. One year and seven months. Something like that.
Q: How do you think you've adapted to America?
A: The food, since Sri Lanka has adapted to western culture a lot, it's kind of the same. So I didn't have much difficulty to adapt to America. But what I have seen as a change is people here are so friendly and talkative than what I have in my country.
Q: How and why did you choose to come to Marshall?
A: The main reason that I chose Marshall is because of the INTO program. I want to study English first and then try to concentrate on my major. That Marshall location in West Virginia is really good for international students. The climate and everything is really balanced. We cannot have winter in our country and we can have it here. I chose Marshall because of the education requirement, INTO, and climate here. And the environment in Huntington is really good for the education and studying. That's the reason I chose Marshall.
Q: How have you liked the weather with it being different from your country?
A: That's really new. I came here during the winter and it was really new for me. I had seen snow when I was on vacation for like two or three weeks, but I hadn't dealt with it for five months. When it changed in climate, like from winter to summer, that's a feeling I will never get in my country. So that's the awesome thing here.
Q: What are your plans after you graduate?
A: Probably after my graduation I will try to do my training here because my major is accounting and my plan is to be a CPA. So my main plan is to go back to my country and work. I'm a person who likes to travel a lot. So my plan is to do my master's degree in another country.
Q: Are there any countries you're considering for pursuing your master's degree?
A: I'm considering New Zealand. It's a really good place. But I believe the foundation I have at Marshall is the most important thing right now.
Q: Have you managed to keep in touch with your family?
A: My dad is a businessman and my mom a businesswoman. And my sister is living in another country studying abroad like me. So when I want to contact my parents, we get together at a time and we Skype together. I usually do it like two times a week or three times a week. It's not that often, but I'm trying my best to keep in touch with them.
Q: What has been your favorite experience in America so far?
A: My favorite experience is living with American roommates. They are really welcoming and helpful and they don't care what you look like or the things you do. And they really respect your privacy. The professors are more flexible than what we have in Asia. They try to understand us students. And the studies we have are kind of more practical than what we get back in our country.
Q: What are some of your favorite activities or hobbies?
A: I'm kind of a charity person. I like to help people voluntarily, so I've been working for a charity in my country since I was like seven. I like to help animals, people and students who struggle with education. My hobby is to help people, give them a proper education and do what I can do for them to help. It's also my goal after I graduate to work at an NGO. A company like that where I can interact with more people.
Q: As someone who likes to travel, what do you think are the best countries you've been to?
A: I have been to more than 13 countries. I really enjoyed Japan. I also enjoyed South Africa. That's the best place I've been to. And I enjoyed India. There's a lot of culture there.
Q: Is there anything you would like people to know that we haven't talked about?
A: I think it would be great if the Huntington community would be more open to the international students. When you're dealing with international students, as a student worker working at INTO, you have to be really patient. I think Huntington should improve with that a little more. English is not their first language. They speak more than English and they are trying to adapt to the English language and the culture. So I think Huntington should take it a little bit slow rather than treating them like a person who already has experience like an American who was born here.
Leave a Comment
Your donation will help continue the work of independent student journalism at Marshall University. If you benefit from The Parthenon's free content, please consider making a donation.