Protesters take to the streets during Trump rally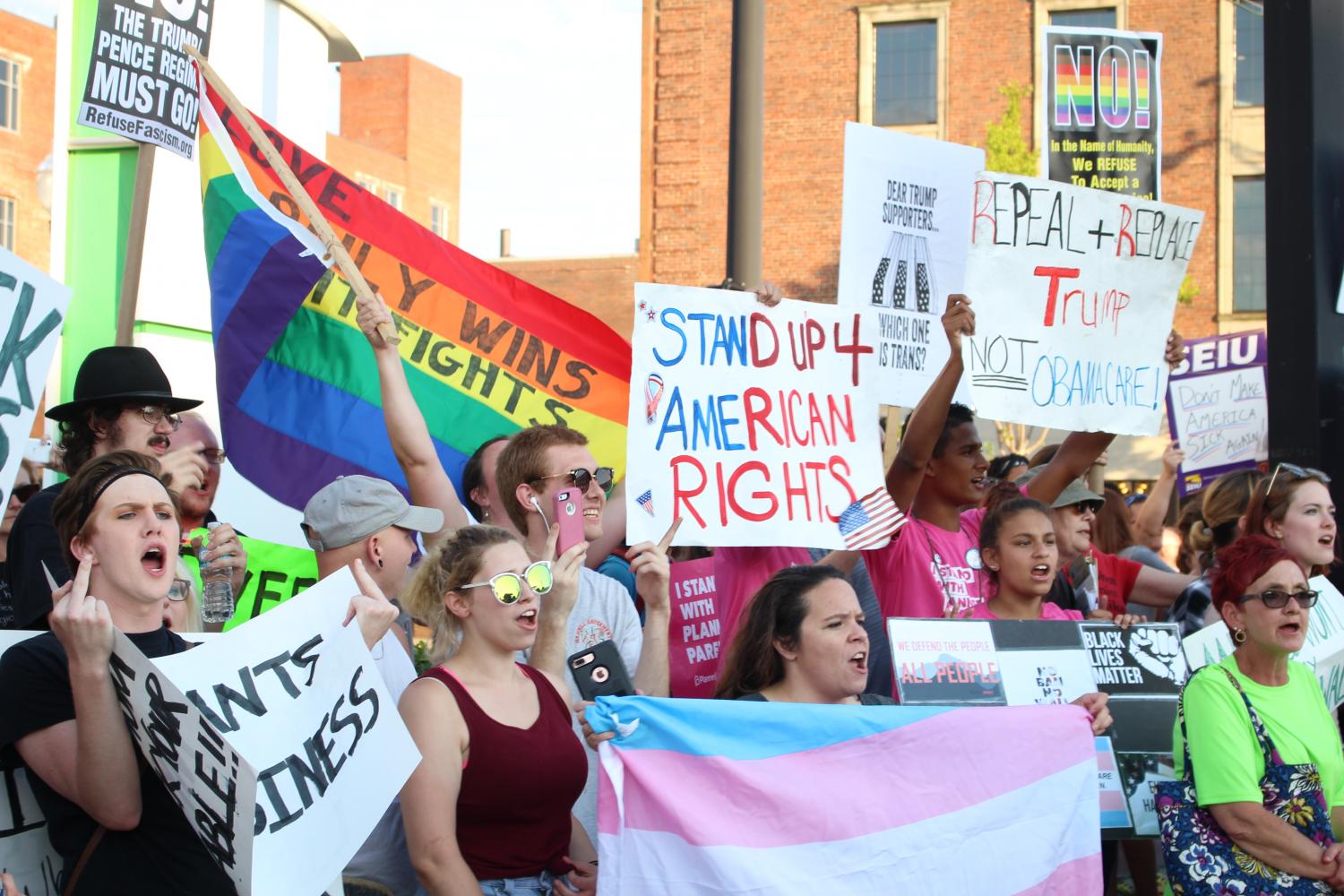 At a pivotal moment in the protests that raged on outside the Big Sandy Superstore Arena during President Donald Trump's campaign rally Thursday, Michelle Davis interrupted a counter protest to place a transgender rights flag overtop a Make America Great Again flag.
"No hate, no fear, immigrants are welcome here," Davis chanted, before segueing into "trans rights are human rights." Fellow protesters surrounded her, "Love Trumps Hate" and "Black Lives Matter" signs in hand.
Immediately, both Trump supporters and protesters lining either side of 8th Street erupted in a way they had yet to that evening, with the threat of violence looming in the air. Police surrounded the scene and separated a protester and a counter protester engaging in a heated argument concerning each other's military service. Eventually, Davis and those who had joined her were forced to the other side, where they continued their protest peacefully for the remainder of the event.
Davis, who is from Columbus, Ohio and was present when four protesters were arrested during a Pride parade in June, said she was demonstrating inside the Trump rally before the incident.
She said she was was speaking out in opposition to Trump's legislative agenda, citing disagreement with the president's policies concerning a border wall as well as the recent ban on transgender individuals in the military, a policy the president announced last week via his Twitter account.
"That was just a gimmick," Davis said of Trump's campaign pledge to support the LGBTQA community, which has been called into question following the announcement of the ban. "Nothing he says holds any weight."
In Columbus, Davis said she witnessed an atmosphere that is "breeding violence and hate and has to stop." This atmosphere, she said, can be attributed to Trump's election.
Despite leaving the venue to join fellow protesters outside, Davis said she didn't feel threatened inside and that many of the those attending were "nice people."
"We have a difference in opinion and I think a lot of it is due to a lack of information," she said. "They're not stupid people. They're just being fed bullshit."
Rick Cover, who was holding the Make America Great Again flag during the hectic, impassioned moment, interacted with protesters throughout the event, exchanging chants or words with those on the other side of the street. He said he's "for Donald Trump" and that if one really wants to make a difference, they should pick up a skill or trade and "make America great personally."
Cover defended the president, saying the claims Trump is "getting nothing done" should be blamed on Congress. He cited the Republican's recent failed attempt to repeal and replace Obamacare as a key example.
"It's not him," Cover said. "Republican and Democrat. I don't blame either one. I blame them all."
Cover said he found it perplexing that members of the LGBTQA community, whom he said he didn't have a personal problem with, were protesting alongside Muslim individuals, whom he said "hate homosexuals and transsexuals."
"They should be looking at people who really hate them and really discriminate against them and really want to cut their head off," Cover said. "The guy standing over there that's a Muslim wants to cut their head off."
Following the rally, Cover was escorted from the event premises by police officers.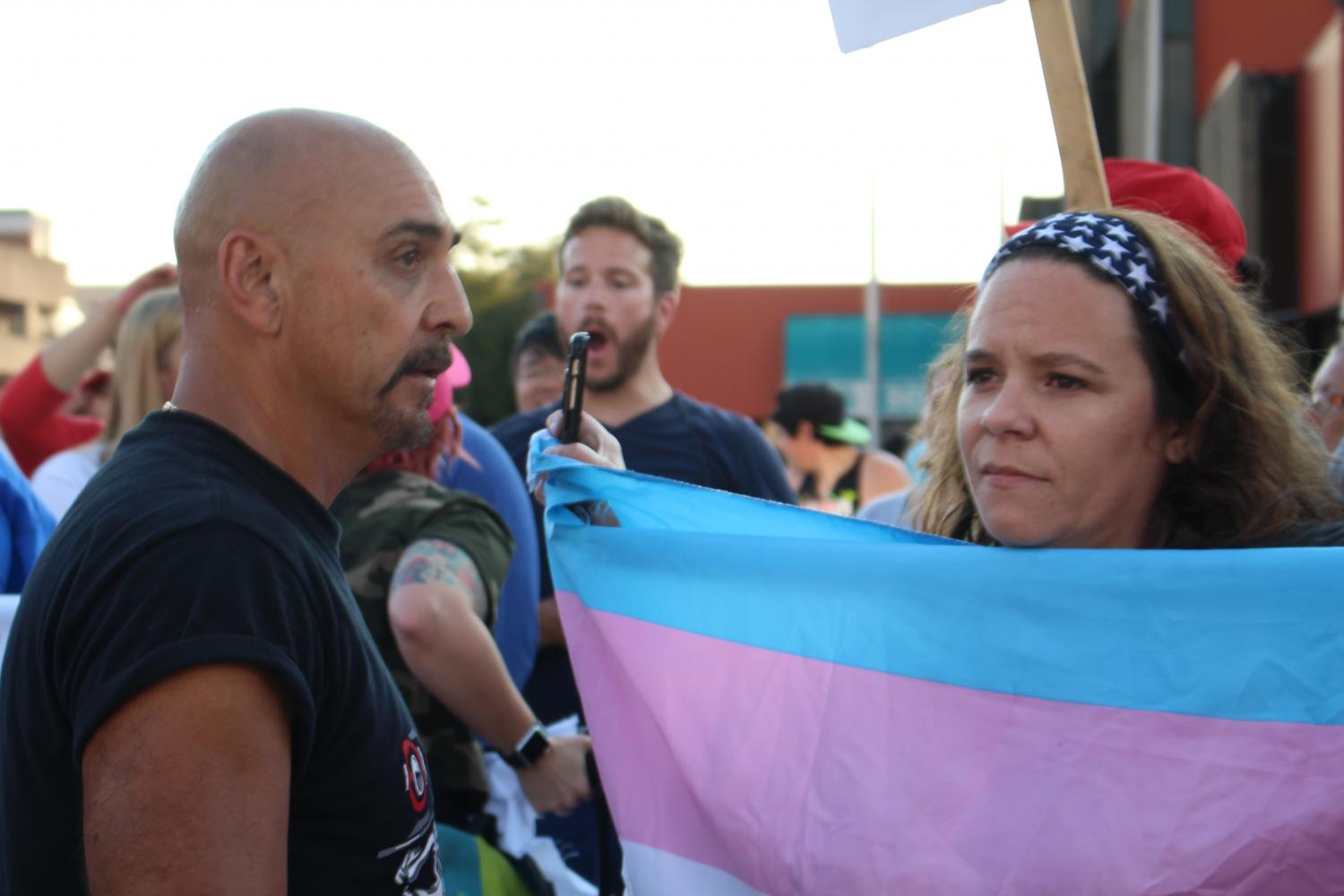 Protests started well before the event and only began to dissipate shortly after its conclusion. Mostly peaceful with Huntington Police on guard throughout, only one arrest was made inside the venue. While some like Davis and Cover stood at the front-lines, others were merely in attendance to show their support or disagreement with the president.
Veteran Kim Van-Rijn, who opposed Trump, held a sign supporting veterans' rights. She began serving in 1974 when the all volunteer army was enacted at the end of the Vietnam war. She said veterans rights weren't the only issue the activist group she's a member of, Indivisible, is working towards. With a Trump presidency "everybody stands to lose," she said.
"He's going to attack whoever it's convenient for him to attack, that will make his base happy," she said. "I don't think any particular group is safe from this guy."
The veteran said recent Trump actions such as the transgender ban have been a way to "appease" the Trump base and "deflect attention from things he doesn't want us to notice." Van-Rijn provided Trump's ongoing conflict with Attorney General Jeff Sessions over his recusal from the Russian investigation as an example of the latter.
Nick West, a Huntington resident and supporter of the president, said he worked Thursday and wasn't able to make it to the Big Sandy in time to get inside. After the doors closed and it was clear he wouldn't make it in, he decided to stick around on the outside.
West voted for former President Barack Obama in 2008, but said he was unsatisfied with Obama's performance, didn't vote in 2012 and started paying attention to Trump as the 2016 campaign cycle intensified. Eventually, he found himself on board with much of what Trump was saying, which he said were promises career politicians had made in the past but had never kept.
"I realized this guy's actually speaking the language of your everyday man," he said.
West said he's in favor of the proposed changes to legal immigration announced by the Trump administration on Wednesday, which aim to replace the current family-based immigration system with a merit-based system. Today's immigrants, West said, do not attempt to assimilate into American society in the same way our previous immigrant ancestors did.
West said he's unconcerned about the negative press Trump has amassed, including the president's polling numbers; Trump's approval rating currently rests at 36 percent according to a recent Gallup poll. The enthusiasm from Trump supporters, West said, will only grow as the president continues to enact his legislative agenda.
"You try to put stock into some sort of elected official and I think people have been let down for so long," West said.
With Trump, however, West feels he and those like him have "finally" found their man.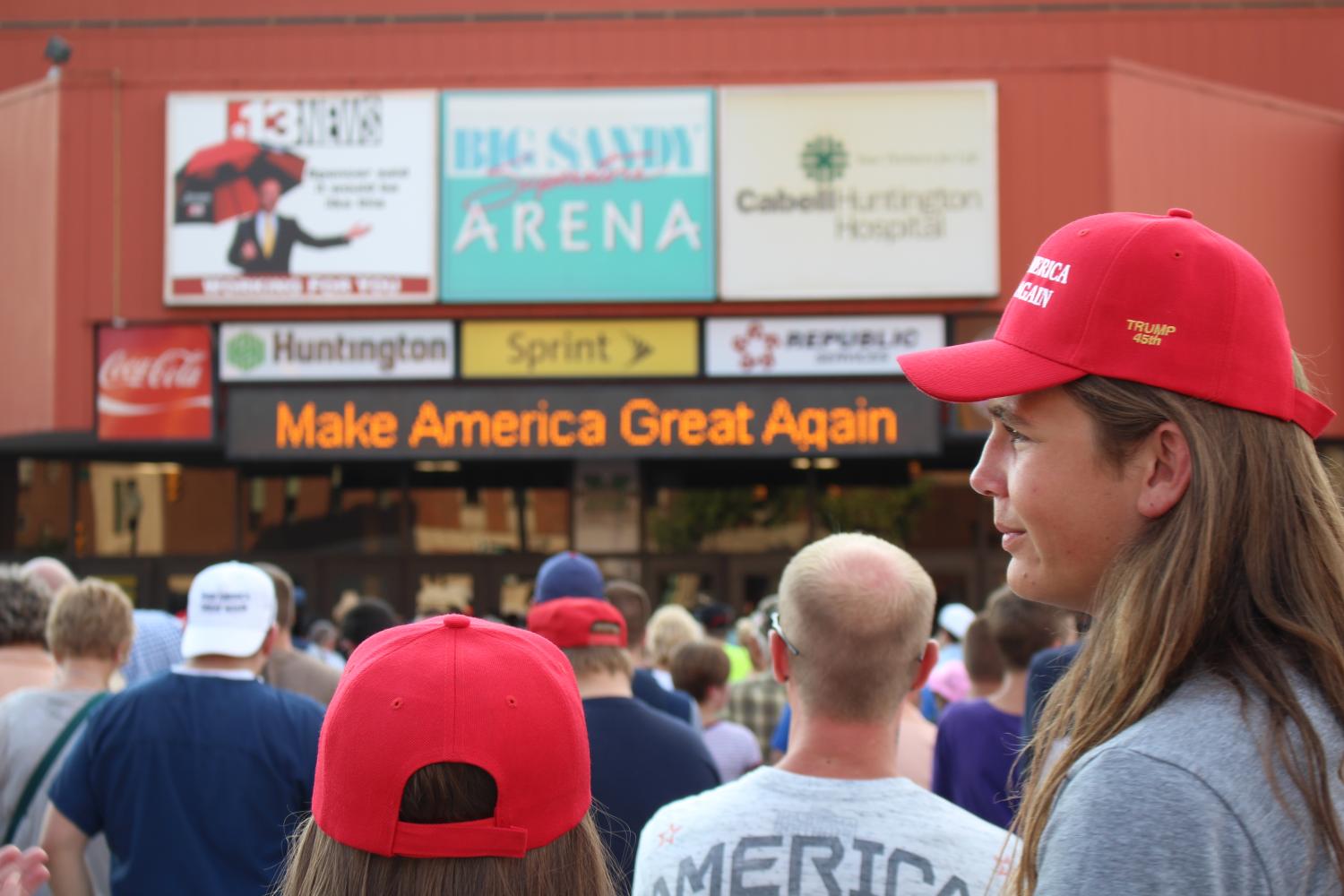 While those supporting or opposing Trump abounded at the event, others merely showed up to see a sitting president with their own eyes. Adam Ciner of Johnstown, Pennsylvania was one of those individuals.
"I wanted to take the opportunity to get a chance to see if what's portrayed in the media is the same as what it's like whenever he's actually speaking," he said.
Ciner said he supported the protests and was glad those demonstrating were able to be so close to the venue.
Following the event, Huntington Mayor Steve Williams weighed in on the protests. He said that any day the president of the United States comes to West Virginia is a good day and that he was proud protesters came out to exercise their right to free speech.
"That's what America is all about," Williams said.
Jared Casto can be contacted at [email protected].
View Comments(1)
Your donation will help continue the work of independent student journalism at Marshall University. If you benefit from The Parthenon's free content, please consider making a donation.