Cops and Coffee
HPD urges citizens to avoid giving to panhandlers
More stories from MacKenzi Kyle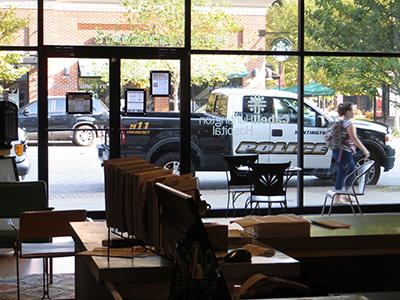 Local business owners and downtown residents gather to discuss concerns for the community with officers from the Huntington Police Department.
Huntington's Kitchen hosted a 'Coffee with a Cop,' a forum to allow locals to have one-on-one conversations with several members of the Huntington Police force, including Chief Joe Ciccarelli.
Several topics were discussed throughout the meeting Wednesday morning, including vandalism of local businesses, the removal of city trees, the city's cross walks and bicycle traffic. Heavier topics such as Huntington's ongoing battle against drug addiction and prostitution held a large role in the discussion.
Ciccarelli led most of the discussion, beginning with sharing some statistics about crime rates in Huntington. According to Ciccarelli, downtown crime is down 14 and a half percent from last year. Police officers have arrested as many people from the months of Jan. to Aug. 2015, than in all of 2014 combined.
"One dilapidated house at a time, one addict at a time," Ciccarelli said. "Is how we're gonna win this."
Ciccarelli stressed the importance of helping those with drug and alcohol addictions, as well as mental health issues, the treatment they need.
Panhandling was another topic largely discussed by the residents and business owners at the meeting. Many expressed their concern that those soliciting money hurt downtown commerce by deterring locals from the area.
"
"There's not a cop in Huntington that would walk away from a man or woman who is hungry."
— Captain Hank Dial
"Do you know why we have panhandlers?" Captain Hank Dial asked. "We hire them to be there. If we didn't pay them, they wouldn't be there."
The city of Huntington has an immense amount of resources for the homeless of the area, including the Huntington city mission and the various local churches that provide free meals to those who are down on their luck. Officers told those at the meeting that they believe those panhandling were more than likely looking for money to feed their addictions.
"There's not a cop in Huntington that would walk away from a man or woman who is hungry," said Dial.
Dial and Ciccarelli stressed that Huntington citizens should not give money to panhandlers, no matter what their story might be. Residents who feel the need to give, should donate to local charities directly.
The HPD believes that if city residents make the active decision to not give money to panhandlers, they will eventually go away. They also believe that ridding the city of panhandlers will decrease the drug activity in the city.
"I don't believe in feeding the addiction," Dial said. "We've got to stop handing them money."
MacKenzi Kyle can be contacted at [email protected].
Leave a Comment
Your donation will help continue the work of independent student journalism at Marshall University. If you benefit from The Parthenon's free content, please consider making a donation.