University bus system in the works
More stories from Cadi Duplaga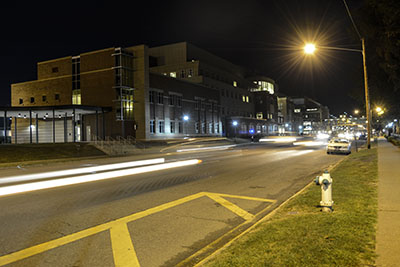 Marshall University's Student Government Association is in the process of creating a bus system accessible to all MU students.
Throughout last spring's campaign, one platform that Marshall University Student Body President, Duncan Waugaman and Student Body Vice President, Izzy Rogner, rallied for was a non-stop transportation system for students. The transportation system would run from 8th Street to 22nd Street and would give students access to downtown Huntington.
Rogner explained her goal for the system.
"We want Marshall students to feel that they can be downtown and have that utilization of Marshall University and Huntington so students can feel that downtown is a part of Marshall." Rogner said.
Rogner has taken this plan to the next level and has met with several people to get the ball rolling. She spoke with Chief James E. Terry with the Marshall University Police Department, as well as the Huntington Police Department. The HPD gathered data for Rogner and created a "hot-spot" map of the specific area to show where any types of crime occur.
The data found that there is not a way for the system to operate without running through an area where crime may happen. According to the data, 46 percent of assault victims in the downtown area during the school year are in the age range of 18-24. Rogner explained that although she could not prove the victims are Marshall students, there is a good chance they could be while classes are in session.
"
"We want them to be able to access the downtown area and make it there and back without any complications."
— Izzy Rogner
DUI arrests are also are a problem in Huntington. "Not only those who are committing DUIs, but those who could be affected." Rogner said. "If I'm walking down the street and someone's drunk driving, I don't want to be there."
The age group 18-24 receives almost half of the DUI charges in the downtown area, mostly people who are right on the legal drinking age of 21. "We don't want people to see this as like a drunk bus, that's not what we're trying to going for." Rogner said. "We're showing that there are people who aren't of age and there are people who are of age and this data is showing that people of age to drink are committing the most DUIs and so we're trying to say this bus system not only effects those who are over the age of 21 but it can positively effect those under 21 as well."
Both Waugaman and Rogner are concerned with the safety of students and this transportation system could be a way to help ensure all students have a safe opportunity to get where they need to.
"Our main concern is for the students to have a safe transportation system to get them to and from campus." Waugaman said. "We want them to be able to access the downtown area and make it there and back without any complications."
Rogner plans to gather focus groups of students to evaluate how safe they feel on campus and locations students would like the bus to stop.
After the focus groups, Rogner hopes to have a survey by the end of October for all Marshall students to get their opinions on the transportation system.
Cadi can be contacted at [email protected].
Leave a Comment
Your donation will help continue the work of independent student journalism at Marshall University. If you benefit from The Parthenon's free content, please consider making a donation.