Operation Jade Helm raises concerns of government intrusion on civil liberties
How far will the government go to restrict our civil liberties, and at what point do anti-terrorism laws supersede those liberties.
Hang on for a minute...we're trying to find some more stories you might like.
More stories from Editorial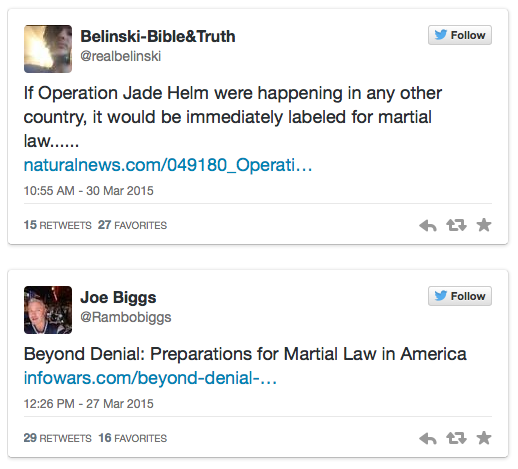 This summer, all branches of the U.S. military are launching a vast Special Operations exercise across six states called Jade Helm 15. The size and scope of this mission is vast, utilizing eight states (Texas, Utah, New Mexico, California, Arizona, Mississippi, Louisiana and Nevada) as a training ground for a month-long covert operations exercise. In a statement to The Washington Post, Army Lt. Col. Mark Lastoria explained the nature and purpose of the operation.
"The nature of warfare is always changing and U.S. Army Special Operations Command's mission is to make certain the Army's various Special Operations Forces are trained, equipped and organized to successfully conduct worldwide special operations in support of our nation's interests," Lastoria said. "Training exercise Jade Helm is going to assist our Special Operations Soldiers and leadership in refining the skills needed against an ever changing foreign threat."
The operation will involve implementation of covert military cells in civilian areas and the movement of tanks and other military forms of transport in proximity to those areas.
However, the military asserts that the majority of the operation will occur in remote areas.
This recent announcement has raised alarm across the Internet, particularly social media. Not surprisingly, conspiracy theories have emerged, essentially claiming that the U.S. is rehearsing for the enactment of martial law across the nation—a belief partially stemmed from the creation of The National Defense Authorization Act, which allows the detainment of U.S. citizens for an indefinite period on the mere suspicion of involvement with terrorist activities. Unlike the well-known Patriot Act, the NDAA was enacted in relative secret.
The sudden closures of Walmart stores in Florida, California, Texas and Oklahoma, an incident in which more than 2,000 employees were given six hours notice of the six-month shutdown, only furthered this conspiracy. The reason cited for the closures was plumbing problems, except that city officials in these areas have purportedly claimed that no permit requests have been filed in relation to the issues.
One video circulating the Internet shows a woman entering one of these Walmarts, in which the pharmacy has remained open. In the video, police cruisers guard all exits and entrances and the store's windows are blacked out. Inside, empty shelf units form a wall around the pharmacy section, completely obstructing the view of the rest of the store. After a few moments, somebody forces her to cease recording and tells her to leave.
This sparked rumors across social media sites that the stores are being used as command hubs or Federal Emergency Management Agency camps for the upcoming enactment of martial law, and the underground passages beneath these stores will allow the military to move undetected around portions of the country.
Two terms strongly associated with Jade Helm is unconventional warfare and guerilla warfare; based on these terms, and the forms of warfare to which they are usually associated, theorists claim Jade Helm is not practice for a foreign invansion, but rather the declaration of war on the citizens of the United States.
The question is, how far will the government go to restrict our civil liberties, and at what point do anti-terrorism laws supersede those liberties. In other words, how far is too far?
Conspiracy theorists tend to be persistently Orwellian in their beliefs, but just because they follow a very black-and-white anti-government mentality does not mean that some of their concerns are not legitimate.
The actions of our government must be monitored. One of the purposes of journalism is precisely that—to be a watchdog on the government. But this should not be a job strictly for journalists. Everyone must keep an eye on the actions of our government. Even though the purpose of democracy is to maintain a civilized society, it also is a system that gives one group of people power over another group—and power corrupts; it is a like a toxin that poisons the despotic mind.
While the government is basically here to help us, we should keep a close eye on those in charge to ensure they enact only the liberties to which we appointed them.