Seasoned tennis star continues career as Herd coach
More stories from Kasey Madden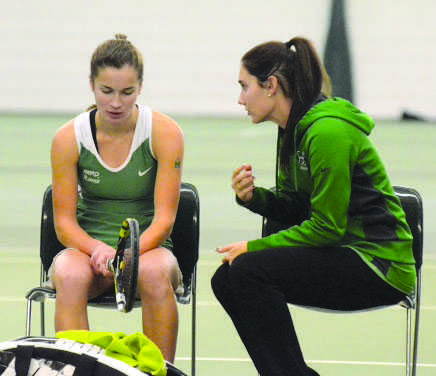 The assistant coach for Marshall University's tennis team Kellie Schmitt traveled in 2005 from Pittsburgh to begin her tennis career at Marshall University.
Schmitt started at Marshall as an accounting major, but later switched to exercise science.
"When I was here playing, I was either going to try to play afterwards or I was going to coach," Schmitt said. "I mean I've been playing since I was six, so I feel like it's just been a part of my life."
Schmitt's tennis career at Marshall is filled with records, victories and national tournaments.
She currently holds three records at the university for career singles victories, career singles winning percentage and career overall victories.
Schmitt's record for career overall victories is 236, securing that spot by 38 wins from the number two spot.
Schmitt played number two singles and number one doubles as a freshman but from her sophomore year on, she played number one in both.
"I never thought coming into Marshall I was going to do as well," Schmitt said.
Schmitt was named player of the year in C-USA from 2007 to 2009.
She received the honor of C-USA player of the month four times and C-USA player of the week 10 times.
Schmitt was first team C-USA All-Conference singles all four of her years and first team C-USA All-Conference doubles in 2009 with teammate Karolina Soor.
In 2006, 2007 and 2008 Schmitt's doubles team was recognized as the doubles team of the C-USA Championship with Lynzee Kever in 2006-2007 and Soor in 2009.
Schmitt had the opportunity to travel to various tournaments including the Intercollegiate Tennis Association All-American Championships from 2006-2008 and the NCAA Intercollegiate Indoor Championship.
"I mean seriously, I had one of the best experiences ever," Schmitt said.
In spring 2009, Schmitt was the No. 1 ranked singles player in the East Atlantic region. Her highest national singles ranking was 19 in January 2007 and highest national doubles ranking was 14 in September 2008 with Soor.
"
You're not going to be perfect on the court. When something bad happens you have to try to figure it out.
— Kellie Schmitt
Schmitt was the Intercollegiate Tennis Association East Region's player to watch in 2008 and received the Dr. Dorothy Hicks Female Student-Athlete of the Year Award in 2008 and 2009.
Schmitt's accolades set the bar high for her players, and she said she tries to guide the players based on her experience.
"I try to help people, like get the best out of them because I had so much help growing up," Schmitt said. "I try to pass that to the girls a little bit."
Schmitt said coaching is harder than playing, but she continues to do so in her third year at Marshall.
Schmitt said tennis has taught her to overcome adversity on and off the court.
"I feel like just the adversity part is huge," Schmitt said. "Again, you're not going to be perfect on the court and in life when something bad happens you have to try to figure it out."
Schmitt said having the support of coaches over the years has helped her especially head coach John Mercer and his wife Laurie.
"Them, and having Marshall in general, just having that support made me want to work even harder to help the program," Schmitt said.
Kasey Madden can be contacted at [email protected].
Leave a Comment
Your donation will help continue the work of independent student journalism at Marshall University. If you benefit from The Parthenon's free content, please consider making a donation.