"Marshall" Connects Family to Precious Memories
When searching for the right dog to bring to his New Jersey apartment, Matthew Gilmore was flooded with family memories when introduced to one Aussie Doodle puppy.
Although Gilmore's family has lived in Harrison, New Jersey for decades, the family views Marshall University and the Huntington community as a home.
The family has supported the university ever since Gilmore's great uncle, Kevin Gilmore, was killed in the plane crash in 1970 that killed Marshall football players, coaches, and fans—only two miles away from the tri-state airport. So, when the breeder in western Pennsylvania told Gilmore that the Aussie Doodle's name was "Marshall," Gilmore froze.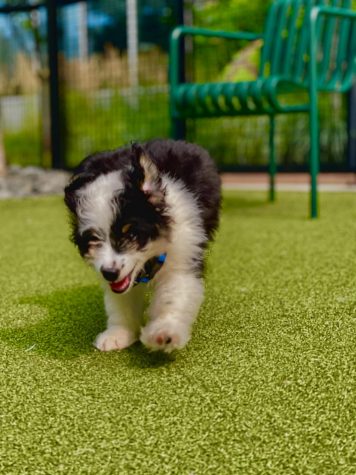 "It like struck a nerve and that's when I decided to take him," Gilmore said.
Kevin Gilmore was the running back for Marshall University when he died at the age of 21. His body was not identified, and he was buried in an unmarked grave near the Memorial to the 1970 Marshall Football Team with the five other unidentified players.
When Gilmore visited Marshall University and the gravesite 15 years ago, he noticed how hard it was for his family—especially his grandfather, John Gilmore.
"My family never wanted to bury the body in the wrong grave or to get the wrong body, so it was just complicated," Gilmore said.
As the older brother in the family, John was drafted into the Vietnam war and agreed to go so Kevin had the chance to become a college football player. John was shot in war and hospitalized for over 100 days but came back home with a purple heart and bronze star, and with excitement to see his brother play football for Marshall University.
"It has always been said in my family that my grandpa never got the closure that he wanted with his brother [Kevin] because he was never able to find his body or identify him," Gilmore said. "He was questioning if he should have gone to Vietnam, if that was what God wanted."
Gilmore said he learned about Kevin at a young age, since Matthew was born when his father Jack Gilmore was 18—right before he started his own college football career at University of Nevada, Las Vegas.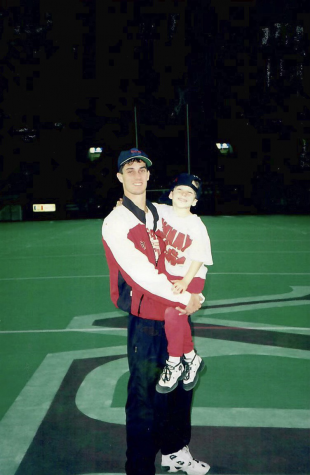 "As a kid, I always had Marshall gear and thundering herd stuff, and if it wasn't Marshall, it was UNLV," Gilmore said. "It was such a big part of my life. Football was always a family thing, it was what we did."
Kevin was not the first tragic death in the Gilmore family, as Jack was killed in a car accident on March 4th, 1997, only months after graduation.
Gilmore added, ironically, that Kevin transferred to Marshall mid-season after playing for Wichita State. A month before the Marshall plane crash, Wichita's football team also suffered a fatal plane crash.
"I think the thing is that he [Kevin] set the tone for my family and inspired us to seek a form of meaning through football and university, the community of students, players and coaches," Gilmore said. "Everybody has been super supportive anytime I have gone to UNLV or Marshall."
Leave a Comment
Your donation will help continue the work of independent student journalism at Marshall University. If you benefit from The Parthenon's free content, please consider making a donation.