Marshall Diver Receives Diversity in Aquatics Award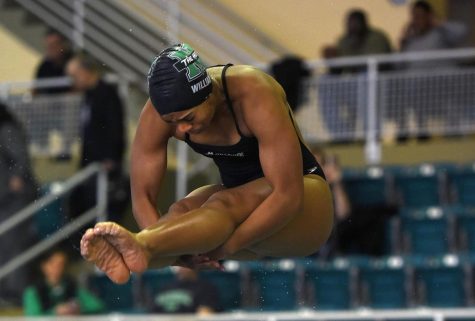 After years of competitive diving at a high school and college level, Joelle Williams, a sophomore diver at Marshall University, is awarded the Diversity in Aquatics Ken Roland Aquatic Professional Award. 
"Thank you to every single person who took the time to vote for me—many of you, more than once! To even have been considered for this award—recognized as a person of color who sets a standard for mankind with their commitment to aquatics—is humbling." Williams posted on Instagram.
Founded by Shaun Anderson and Jayson Jackson in 2010, Diversity in Aquatics is a volunteer-led member organization that illuminates and supports underrepresented populations by educating, promoting and supporting aquatics.
The organization has offered the Ken Roland Aquatic Professional Award since 2016 to award a person or organization that "sets the standard for mankind with their commitment to aquatics. Intended for one who has lived their life with a passion to bring forth in the world a dream or vision. It is a way of being for mankind that is independent of any personal goals and for those who are under-represented in aquatics."
After over 700 votes, Williams was able to win the prestigious award by a 91.9% vote.
Williams' relationship with sports started with gymnastics when she was three years old; however, she decided to "retire" at the age of ten to practice another sport that she could play during high school and eventually college. She started diving the summer before her freshman year of high school at the age of 14.
Williams was driving home from a state diving competition when deciding to create Black Girls Diving, a social media campaign, after telling her parents about her passion for finding divers that looked just like her.
Williams started working on the campaign in 2014 through personal documents and social media platforms like Facebook, Twitter and Instagram.
Through the campaign, Joelle would manually submit divers—in a spreadsheet—who identified as a person of color from the high school level, college level and the Olympic level.
"I continuously searched and tracked those names for any accomplishments that they especially put out or any articles, and I would redirect people to those articles just to show that there is Black representation," Williams said.
Joelle has gathered over 50 features of girls who identify as black, biracial or Hispanic to use for the campaign and collaborate with organizations like USA Diving's DEI Council.
The campaign moved to Facebook in 2018 and had about one post a month due to the lack of research on female minorities in the diving world. Joelle created the Instagram page in 2020 when she realized that she had enough media to broaden the campaign.
Joelle said that her diving team at Marshall is her family and is sometimes the only physical contact she has with people during the pandemic, but as the only black diver on the team, she sometimes feels alone.
"The feeling of loneliness comes at random times. I'll be on the board and realize that I am the only person with my body shape. I am the only person who has to do a certain hair care routine or notice my swim cap's importance as a black diver. I have to practice a certain routine in order to keep my hair at this length."
Williams emphasized that she was even more lonely in high school with the lack of proper equipment like springboards and that she didn't see other divers that looked like her. Williams said she didn't see black divers until her junior year of high school when she saw two different black divers at a state-level competition.
Williams said that she would have to start new goals after accepting the Ken Roland award.
"I didn't even know the organization saw me as an aquatic professional," Williams said. "I am only 20 years old, and I was up against people in theirs '30s and '40s. It was just very eye-opening. I literally have to pick up new dreams."
Leave a Comment
Your donation will help continue the work of independent student journalism at Marshall University. If you benefit from The Parthenon's free content, please consider making a donation.