Marshall community unites in protest of campus carry bill
Students and educators from Marshall University, West Virginia University and other local colleges united in recent weeks to fight back against legislation that would allow individuals with permits to carry concealed weapons on campuses.
Several protests, mainly on college campuses, have resulted from the public unrest regarding the proposed legislation within HB 2519.
The implementation of the bill would likely cost the state over $10 million.
Monday, university students and faculty and concerned citizens gathered at the state capitol to make their voices heard by lawmakers.
"Data analyses from the past 40 years show reduced gun restrictions lead to increased crime, homicides and suicides," Hilary Brewster, a professor at Marshall, said.
More guns lead to more instances of danger and violence, whether accidentally (or not), Brewster said. Furthermore, recent Stanford research shows when states increase gun restrictions, decreases in violent crimes, homicides and suicides normally follow.
"This bill is a disaster," Brewster said. "The overwhelming majority of university personnel, faculty and students are against this."
Amy Hessl, a professor at WVU, said she is concerned the bill would expose more young people who lack experience with firearms to weapons they are not trained to use.
"I'm not even as concerned about students from West Virginia who are vastly experienced with firearms, but we have to understand all the students from out-of-state who didn't grow up around guns will be exposed to them as well," Hessl said.
Hessl said she feels the bill is being forced upon universities by outside interests that have targeted the state.
Sabrina Thomas, a librarian and member of the Student Conduct and Welfare Committee at Marshall, also said she feels the bill is being forced upon universities.
"The bill directly goes against what the police want, what the faculty on campus want and what the students and student body governments want," Thomas said.
Several university students and faculty also voiced concerns regarding the cost of implementing 'campus carry.'
"That $10 million has to come from somewhere," Thomas said. "Are students willing to increase their tuition?"
Thomas said she has no problem with a person's right to own a gun; however, students and faculty also have the right to a safe place to learn.
"I don't mind people owning guns; they can have them, just not in my classroom, not on our campus," Thomas said.
Delegate Caleb Hanna (R- District 44), a student at WVSU and co-sponsor of HB 2519, said he would also support a theoretical bill that would allow individuals to carry guns at the state capitol.
"I would be a huge advocate for that," Hanna said.
While speaking with university students and faculty about the likely negative impacts of the bill, Hanna said they and he "must have looked at different data."
There are already people carrying guns on campuses, he said, the proposed bill would simply allow individuals with proper permits to do so legally.
"I'm a strong supporter of the Second Amendment," Hanna said. "It's as simple as that."
Leif Olson, a graduate student at Marshall, said he opposes the bill because it would lead to an increase of policing on college campuses.
"I don't want to live in an increased security state," Olson said.
Olson said he would prefer to live in a place where ideas flow freely and individuals do not feel threatened during discussions and disagreements.
"We don't have to kill each other in order to learn something," Olson said. "We can resolve our disputes with ideas and words."
Douglas Harding can be contacted at [email protected].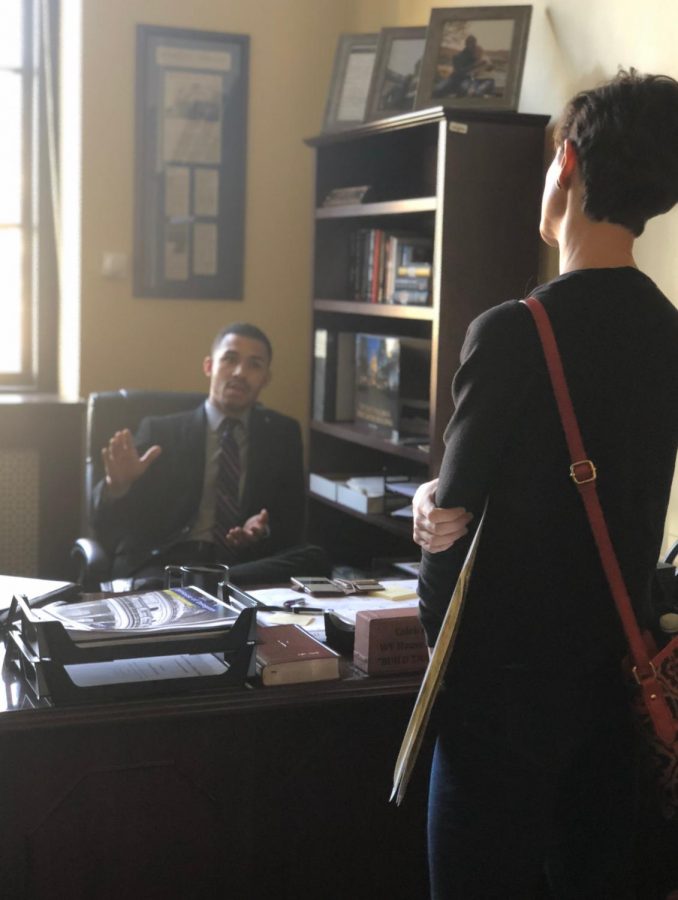 Leave a Comment
Your donation will help continue the work of independent student journalism at Marshall University. If you benefit from The Parthenon's free content, please consider making a donation.