My Huntington movement encourages public engagement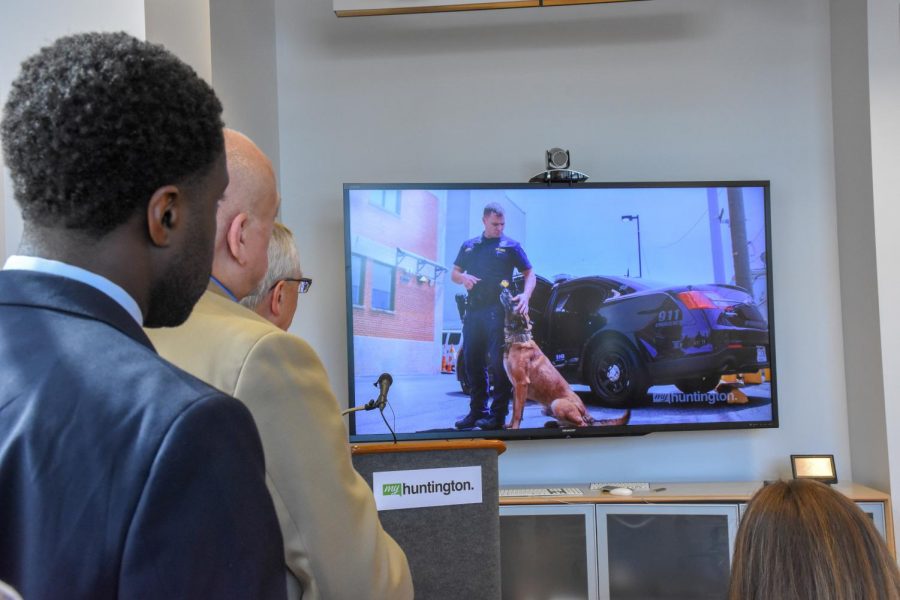 A few months ago, different groups of people were unknowingly discussing one very similar topic: how to help Huntington grow, escape negativity and focus on the positives. From this, the My Huntington movement was formed, and it was officially unveiled at a press conference Monday, with donors, business owners and committee members alike sharing their personal stories of their beloved Jewel City.
By coming together, these groups, consisting of Marshall University, the City of Huntington, business owners, the Convention and Visitors Bureau and the America's Best Community Team, worked to create the My Huntington movement to give people an opportunity to spread their love of Huntington.
Speaking at the press conference, Tyson Compton of the Convention and Visitors Bureau said it is a movement rather than a campaign because of the unique way people came together to create it and because of the many ways to support it, from donating money to joining others sharing their testimonies.
"There are a lot of people in and around Huntington who have great stories to tell about why they've chosen Huntington to live, start their businesses, retire, attend school and invest here," Compton said. "They love our city, and they want to share why they think it is special. These positive stories that we want others to not just hear and see, but to feel the passion and truth behind them. We were all working on our own campaign ideas to promote Huntington, but we came together through some events and rather than work separately, we realized that with having all these different themes, it would be much better if we started working together to develop a way for all these stories to be told using a single statement that punctuates through all of it. That is: My Huntington."
One other featured speaker at the conference was Franklin Norton, a Marshall student and managing editor of The Parthenon. Norton spoke of growing up in Huntington and compared the city to a college student.
"For me, Huntington is personal," Norton, senior public relations major, said. "Huntington is kind of like a college student right now. There's this sort of excitement, there's this potential in Huntington that is really fun to be a part of and I almost feel like I'm coming of age with my city which is really neat to a lot of people. This is my Huntington, this is my home, my community, and I want to be part of that in whatever way I can. So, all of the experiences that I've had, all the lessons that I've learned about how to contribute to my community, for as long as I can, as long as you all let me. I'm really thankful to be a part, I'm really excited about this movement so that every person in Huntington gets this voice, every person gets to tell their story; we're taking back the narrative and telling about my Huntington."
MacKenzie Morley is one of 27 female business owners in downtown Huntington, and she spoke of her experiences of being a 'Huntington transplant' at the press conference. When Morley's husband first told her they were moving to Huntington four years ago, she said she Googled the city, but what she found online made her anxious about the move. Morley credits the people of Huntington for changing her mind about the city, and now she said she is proud to be a business owner and raising her children here.
"I made friends, I spent time in the city downtown," Morley said. "I absolutely fell in love, and what changed was this perception that I had from Google of being here, meeting people, introducing myself, my family to this incredible community and then taking it a step further and becoming invested financially by opening a business in downtown Huntington, which is the best decision I could have ever made."
Morley said the changes occurring in Huntington are exciting, and to her, the My Huntington movement is about reminding people how great Huntington is.
"All you have to do is look, downtown specifically, at the personal investments being made by our developers locally," Morley said. "The Market that just opened up is awesome. You look at the work that's being done on Third Avenue, it's incredible. We have big companies investing millions upon millions of dollars into our hotels because they get it. They understand that Huntington is on the cusp of a renaissance, and we are going to absolutely take it by storm; they want to get ahead of it and be a part of it because it's going to be amazing. This is the city I'm choosing to raise my children in, to be invested in, to invest my future and my footprint in, and it's my Huntington. Everybody needs to be reminded of this, I think, because we sometimes get bogged down in the negativity or in just our own day to day lives, and we forget to stop and look around and see what's really happening. This Huntington, my Huntington, our Huntington is going to be phenomenal. It already is, we just need to remind our people how great it is and what greatness is coming. That's what this movement is about."
Included in the My Huntington launch are a series of advertisements depicting Huntington citizens telling their personal accounts of why they chose the city to live and work in. The ads will be running on television, radio and newspapers. The committee encourages individuals to create and share their own videos as part of the movement, too.
A fund for the My Huntington movement has been set up at the Foundation for the Tri-State Community for the other side of the effort, allowing those able to donate to the cause.
"The My Huntington committee approached the Foundation for the Tri-State, a non-profit community foundation, established to improve the quality of life in our community, about establishing a charitable fund to receive and manage contributions made to further the effort to promote the city," Compton said. "The My Huntington fund has been established at the Foundation through donations by local businesses and individuals who are dedicated to highlighting the many positive and wonderful attributes that Huntington has to offer. As committee members shared the concept with others, the excitement grew, and support has been very enthusiastic. Some want to share their stories and others want to support the effort financially, which is what led us to call this a movement rather than a campaign."
Another member of the My Huntington initiative is Marshall president Jerry Gilbert. He said he was inspired to assist in the movement after visiting high schools across West Virginia which had a negative perception of Huntington.
"It was like all they were getting was the negative media, and they didn't consider the bigger picture, and that is all the positive things about Huntington," Gilbert said. "So, we decided we needed to take charge of the message and create a positive movement which this, and it turns out ironically about that same time, we discovered that there were two or three other groups that were doing the same thing. We decided we'd all come together, and we put it under the name My Huntington."
Gilbert said he is excited to see how Marshall students will get involved with sharing their stories for the movement and spreading the positive aspects of Huntington.
"I'm excited to talk about Huntington being a safe place despite the news media stories about what we see associated with the opioid crisis," Gilbert said. "I think we've turned a corner on that. Marshall has been very involved in that, and we are finding solutions. We've been visited by national media to show that we are in fact taking control of the situation, and we are a safe place. It's an exciting place, and a fun place to be. There are more good restaurants in Huntington than any other city that I've been to of this size. There are great things to do, you see investment downtown like you've never seen it before. I want that message to get out to perspective students and their families, so they can say, 'I feel great about sending my son or daughter to Marshall because Huntington is a great place.' People care about other people, they care about Marshall, they care about the students. So, I think [students] can get involved by writing blogs, telling their stories to their friends, going back to their communities and saying, 'I love Marshall, and I love Huntington, and here's why I love it.'"
Amanda Larch can be contacted at [email protected]edu.