Bowen brings Herd to Boston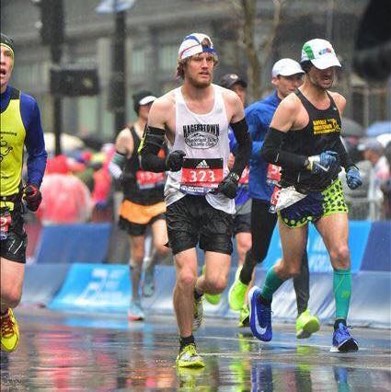 Nearly 30,000 runners lined up to race in the 122nd annual Boston Marathon Monday morning. One runner in the crowd has a special connection to Marshall University.
Caleb Bowen, a local product who graduated from Hurricane High School in 2011 and then took on the role of assistant coach for the Marshall Thundering Herd track and field team after earning his undergrad degree in 2015, ran in the Boston Marathon for his second consecutive year.
Though thousands of runners complete the race every single year, it's no small feat to earn a bib number. A runner must run a qualifying time to be considered, making Bowen's second consecutive appearance that much more meaningful. Marshall track and field Head coach Jeff Small said Bowen should be proud of what he has accomplished.
"It's always a great accomplishment for anyone to get accepted into the Boston because it's a marathon you have to qualify for, whereas most (races) you don't." Small said.
Qualifying time for Bowen's age group, males ages 18-34, was 3:05, which he bested by a wide margin. Bowen's fifth ever marathon race came with its own fair share of challenges, but his preparation didn't waver.
"Whenever I'm training really well I'll run about 80 miles in a week. You have to have a couple good long runs in there, for me that's 15 to 22 miles. The more you do that, the better your body can handle the stress and get used to running at a race pace for long periods of time."
The biggest factor in Bowen's finishing time was the weather. He said the snow turned to freezing rain, making race-day conditions in the low 40's with 15-20 mile-per-hour winds.
However, Bowen said the drastic difference in weather from when he left town and headed for the northeast had a clear impact on his final time of 3:02:10.
"It hurt me, especially the wind," Bowen said. "I'm not the biggest guy, so every time the wind would blow it would push me back. Something I didn't do well was dress warm enough or dry enough. I wasted a lot of energy early on trying to warm myself up. (The weather) negatively affected me, but it made it a unique experience."
The adverse conditions of the 2018 Boston Marathon were a reminder to Bowen that even though the course may be the same, each race is its own experience.
"Every race is different. Even if you run the same course, something will be different than before," Bowen said. "I think the more you run, the more experience you get, you can fuel better, you know how to handle conditions better. This will be one of the most memorable one's I've ever run because the conditions were so crazy."
In his mid-twenties, Bowen remains in the heat of his competition years. The experience combined with the knowledge Bowen has is part of the reason he was hired as Marshall's assistant cross country and track and field coach. Small said competition gives Bowen a common perspective with the athletes.
"I think whenever you have a coach who is also competing and will go out and run 20 miles with the kids, I think it helps them to believe in the coach," Small said. "He's a great role model. He really knows what he's doing, and the kids know that too. He'd never ask them to do something he wouldn't do on a daily basis."
Bowen said the job offer from Small was a dream come true, as coaching had been a long-time goal for him.
"In high school, I always wanted to be a social studies teacher and a high school coach. That was my goal," Bowen said. "Throughout college, I got to see a different side of coaching through our graduate assistants on the staff. I got extremely lucky with coach's offer of a full-time assistant coaching position."
Even while coaching, Bowen said often times, the Marshall student-athletes push and encourage him as he runs alongside them in practice, but it's all in good fun as a unique coach-to-athlete bond is strengthened each time feet hit the pavement.
"At the moment, they're running better than me," Bowen said. "They push me to go faster, and of course you make those connections. You hear their stories while you run."
Marshall University gave Bowen a place to continue his racing career, both as a student-athlete and a coach. While this may be the first stop in a long journey for Bowen, he said he's not complaining about his draw here in Huntington but won't shut the door on future opportunities beyond his green and white years.
"I guess we'll see," Bowen said. "I'm an open book right now, but I love where I'm at. I'm in the doctorate program here at Marshall, so I'll be here for a few years."
As for racing, Bowen said he's not even close to finished. With five marathon races in the books and countless other short-distance races, Bowen said he's ready for his next challenge over the summer.
"The Highland Sky 40-mile trail race– it's a fun one," Bowen said. "It was my first ultra-marathon and it's hard. I want to try and train really well for that, and then maybe another couple marathon's in the fall. I definitely want to qualify for Boston again next year though."
Luke Creasy can be contacted at [email protected].
Leave a Comment
Your donation will help continue the work of independent student journalism at Marshall University. If you benefit from The Parthenon's free content, please consider making a donation.