Davis, Parker campaign uses dating app to solicit votes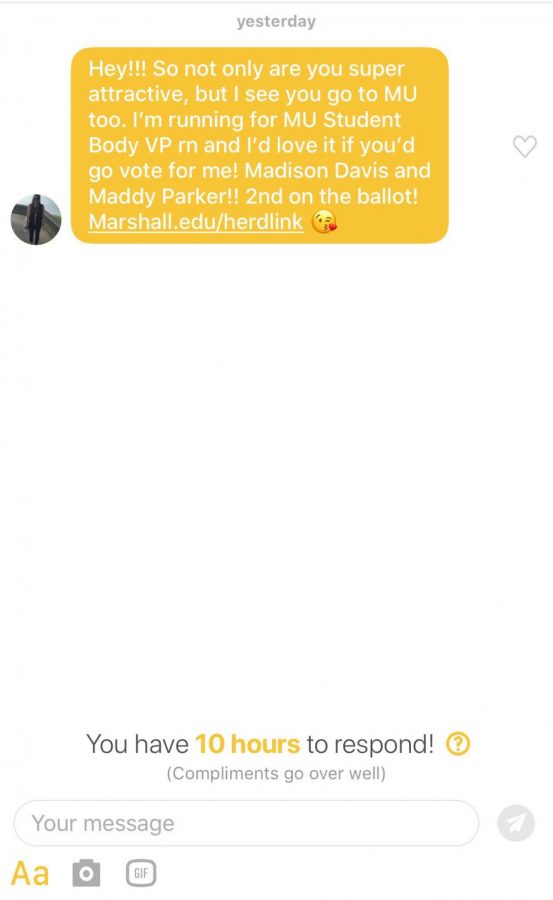 Advertisement
Hang on for a minute...we're trying to find some more stories you might like.
In the past two days the Parthenon has become aware of campaign practices that has undermined the platform and message of one of the student government campaigns. Through the use of the social media dating apps the Davis, Parker campaign has over the past few days been direct messaging men on Marshall's campus who use dating apps such as Tinder and Bumble, to solicit votes during the campaign.
In several messages given to the Parthenon, the Davis, Parker campaign has been sending a mass message to multiple male students across campus.
In a message sent through the app Bumble: "Hey!!! So not only are you super attractive, but I see you go to MU (Marshall University) too. I'm running for MU Students Body VP rn (right now) and I'd love it if you'd go vote for me! Madison Davis and Maddy Parker!! 2nd on the ballot! Marshall.edu/herdlink (Kissing Face)."
According to SGA election commissioner Patricia Proctor, the campaign has not violated any campaign rules but does believe that this is an issue that may need to be addressed in future campaigns.
"I have re-read the 'Campaign Rules' and this conduct does not appear to violate them," Proctor said. "I am not the only election commissioner, but I have checked with the others and understand that this is their interpretation as well. The rules do not appear to contemplate issues pertaining to appropriate online and social media conduct, which is something that SGA may wish to address going forward."
The Davis, Parker campaign is the only campaign that has two female candidates and has been running on a platform of firsts for women in SGA. The Parthenon did reach out to the campaign but there was no release of a statement.
The Student Government Association did not have a statement either at this time.
The Parthenon will continue coverage as more information develops.
You can contact The Parthenon staff at [email protected]