Women's History Month aims to educate, empower, enlighten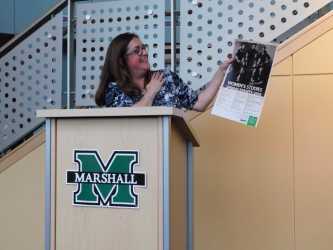 The beginning of March marks the start of Women's History Month, and Student Affairs teamed up with the president's Commission on Diversity, Equality and Inclusion Thursday evening to present a kick-off celebration in Drinko Library.
The event highlighted the calendar of events for Women's History Month sponsored by the Women's Center and Women's Studies program at Marshall, and guests spoke of the importance of educating and empowering females through learning more about their past.
Greta Rensenbrink, associate professor of history, said understanding where women's issues came from plays a huge role in determining how to fight them.
"Particularly right now, there are so many issues that are really critical for women that could be read in some areas as an assault on women's lives and bodies and equality," Rensenbrink said. "We need to understand something about where that came from, the fights we are fighting today that we have been fighting, and look at that past both to recognize and understand where the issues came from, and to be empowered in the way that women and supporters of women's rights, lives and issues in the past have dealt with them."
Rensenbrink said looking at the extraordinary diversity and complexity of the lives of women before her gives her the sense of hopefulness and possibility for change.
"I think history, the best kind of history, can do that, can really disturb our assumptions about the world today being the way it has always been," Rensenbrink said.
Leah Tolliver, director of the Women's Center, said many different aspects of campus life are coming together to shed light on the importance of women's history.
"We have all the different departments here on campus that are kind of coming together and are looking at, 'how do we all have a role in promoting and celebrating women's history, and how do we continue to do that,'" Tolliver said. "We want to highlight it in March, but we want to continue to do it throughout the year."
The events set to take place throughout the month of March are designed to educate, empower, engage and enlighten students on campus as well as those within the community.
Many of the events scheduled celebrate women of all different ages, sizes, ethnicities and economic backgrounds.
Tolliver said getting involved with events in the community is extremely important during Women's History Month, but also throughout the course of life.
"No matter what it is that's important to you, you have to get involved," Tolliver said. "You need to do those things that speak for your voice for those things that are important to you. There's plenty of people who don't have the opportunity to do that, and you all do. So, try to find those ways in which you can do that."
Women's History Month events have already begun and will continue until April 4.
Hanna Pennington can be contacted at [email protected].
Leave a Comment
Your donation will help continue the work of independent student journalism at Marshall University. If you benefit from The Parthenon's free content, please consider making a donation.