'Thundering Word' takes home multiple state championship titles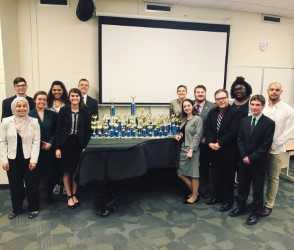 While the spring semester may be winding down, members of the Thundering Word Speech and Debate Team at Marshall University are just getting started, taking home multiple state championship titles at the State Tournament in Fairmont over the weekend.
The team is also preparing for several national tournaments which will take place in the following months.
Nancy Jackson, assistant director of the forensics speech and debate team, said the experience at the tournament was filled with enthusiasm.
"It has a different feel to it than a regular tournament when you're going to different states with other schools," Jackson said. "State tournament is different because it's your home state. It's a whole different feel."
Jackson said the trip to State's was a first for many members of the team, since most of the older students graduated in the previous year.
"Our team is very young this year and we have a lot of novices," Jackson said. "It's because it's a new level of experience, coming from high school into college and doing things on this level, it's a sense of wonderment in a way to do this and then to go to states for the first time; it's a really big deal being state champions."
Hunter Barclay, a junior pre-med student, has been a member of the Thundering Word since his freshman year and won three state championships over the weekend in both speech and debate categories.
"All around we did well across the board," Barclay said. "We also had state champions in after-dinner speaking, so those are comedy speeches, some of our interpretive events, which are acting."
Barclay said although many people have anxiety about public speaking, the speech and debate team has a way of making everyone feel welcome and confident.
"It's a space where you know your opinion is appreciated and there are a lot of issues that students want to voice their opinion on, and you sometimes need that platform, and the speech and debate community is the perfect place to do that," Barclay said. "We encourage discussion on all topics, whatever your viewpoint is, it's a great place to share that opinion and project your ideas to large audiences."
Barclay, who is running for Student Body President at Marshall, said being a member of the team helped encourage him to voice his opinion and gain confidence to run for office.
"Whatever your speech is about, it has to relate to the real world and be relevant, and you have to have actual solutions in your speech," Barclay said. "Whenever you speak about something, you have to know what you're speaking about and be able to defend it."
Jackson said even those who are afraid of public speaking should consider joining the Thundering Word in order to conquer their fears.
"It doesn't matter what you do in life, at some point you're going to end up speaking in front of a group of people," Jackson said. "If it's something you're not comfortable with, it's a comfort-zone thing that you need to break. And this is the place to do it, because we can teach you the skill set that can allow you to overcome that discomfort."
The Thundering Word will travel to Nashville, Tennessee in two weeks to compete against 85 schools and at least 1500 students in the Pi Kappa Delta National Tournament.
Hanna Pennington can be contacted at [email protected].
Leave a Comment
Your donation will help continue the work of independent student journalism at Marshall University. If you benefit from The Parthenon's free content, please consider making a donation.