Fifth annual Huntington tree lighting brings community together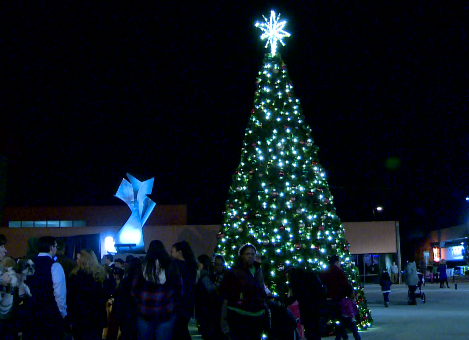 Advertisement
Hang on for a minute...we're trying to find some more stories you might like.
Mayor Steve Williams and First Lady Mary Poindexter Williams lit up the Downtown Huntington Christmas tree Tuesday evening, kicking off the city's holiday festivities.
"It is so exciting to see how this event has grown," Steve Williams said. "It is a family event that everyone can look forward to, even with everything they have going on."
Dozens of people came together to see the lights sparkle at the Big Sandy Arena plaza area.
"I've been bringing my daughter here since she was born," Huntington resident Sophia Lykins said. "She is five now and has attended every tree lighting ceremony the Big Sandy has done. It's cool to know this tradition has become a pretty big part of our family."
A few upgrades to the tree have been made in recent years, including a four-foot extension that makes the tree 26 feet tall, along with another addition of lights, making the grand light total 1,000 bulbs this year.
"We are trying to make it brighter and brighter each year," Steve Williams said. "It really adds to Huntington's atmosphere, and the city's decorations are doing just the same."
The Cabell-Midland Collegium Musicum ensemble performed before and during the ceremony. The Renaissance-based group has performed at the event in previous years, but even some of the senior students said that the performance still means a lot.
"Some of us have been doing this for years now, and it is something we look forward to," choir member Carlie Coleman said. "Being a large part of the Christmas Huntington tradition really does mean a lot, and it is something we will remember forever."
Steve Williams said the Christmas spirit and bright decorations is just a small piece of what makes Huntington "America's Best Community" and said he hopes other people enjoy the holidays in the city as much as he does.
"This really is the best time of the year," Steve Williams said. "Huntington has been through a lot but never forgets what is truly important."
Brooke Griffin can be contacted at [email protected]