Tuition hike result of state's higher education cuts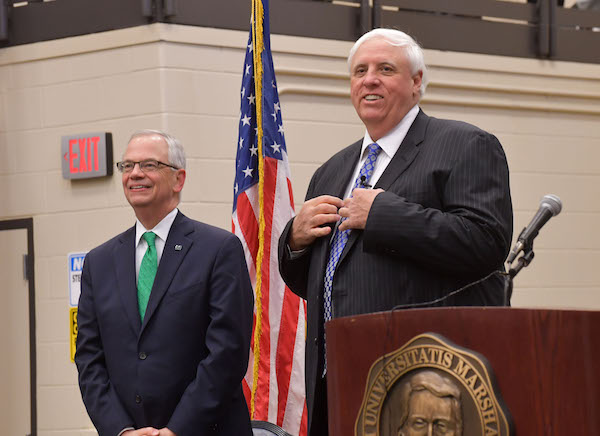 Marshall will face a 9 percent tuition hike in the fall,  a result of the $4.2 million in cuts on the university's higher education funds — approved last month in the state's budget — along with the trend of state cuts in recent years, according to Marshall's Office of University Communications.
As a result, full-time, in-state undergraduate students will pay $322 more per semester, students from Ohio and Kentucky metro counties will pay $440 more and non-resident students will pay $737 more. Graduate students will face higher costs as well, with in-state students paying an additional $334, metro students $469 and non-resident students $806 per semester.
While tuition is set to rise, Senior Vice President for Communications Ginny Painter wrote in an email that housing and meal plan rates will not see an increase.
This year's 9 percent spike is the highest in recent years for the university. Since 2013, tuition increases have ranged from around 4 to 7 percent, wrote Painter.
Marshall President Jerome Gilbert said in a press release that, even with the rising tuition, additional cuts on academic departments will be required to address the university's $1.5 million budget deficit, a deficit Gilbert said is a result of the $14.5 million in state cuts Marshall has seen in the last five years.
"To help fill that budget hole, we will be restructuring a number of our colleges and academic departments this fall to further reduce administrative costs, and will continue to save money by eliminating and combing positons," Gilbert said.
Painter wrote that no final decisions have been made on the programs or academic departments to face cuts, though options are currently being evaluated.
The state budget was approved at the end of June without the signature of Gov. Jim Justice, who maintained that higher education cuts were "just going to hurt our young people and their ability to get a degree."
"I truly feel bad for the thousands of students at many of our state schools of higher learning that are going to have to pay substantially more now for their education," Justice said, following the budget's approval. "It's nothing more than a tax on our young people. Unfortunately, I'm sure it will also prevent some from even going to college."
Students like Adrian Creel, a graduate assistant at the Tutoring Center, share Justice's concern that continuing tuition increases resulting from cuts will only avert students from attending the state's institutions.
"I know people do come here because we're so affordable," Creel said. "And I'm afraid that if we continue to head towards unaffordable tuition, it may drive people away."
Claire Wallace, tutor and junior computer science and math major, added that affordable, quality education can attract non-resident students and maintain in-state students.
"Our money should be going to education, especially in this state, because we want young people here and education will bring them here," Wallace said.
The tutoring department, where both students are employed, was nearly cut this summer, Creel and Wallace said. But the students said it's unlikely the program will be able to stave off the cuts it may face next summer. To Wallace, this could be a loss for students who need help with their classes in the summer.
"People still take classes during the summer," Wallace said. "Tutoring is important."
Marshall is merely one of West Virginia's higher education institutions being forced to restructure as the Legislature scales back on funding. West Virginia University announced a 5 percent increase in tuition after the Legislature cut their funding by more than $8.7 million.
Painter said that Marshall leadership is "sympathetic to tough budget choices legislators have had to make" in the face of declining state revenue, caused by shrinking industries, such as coal, within the state. Nonetheless, Painter said "in the long run" Marshall leadership "will advocate for restoring funding to higher education because it's one of the best investments a state can make in its future."
Gilbert said in a release the Marshall University Foundation Inc. will be providing financial assistance to some students in order to counter the rising tuition. The university also plans to raise funds for need-based scholarships.
Jared Casto can be contacted at [email protected]
Leave a Comment
Your donation will help continue the work of independent student journalism at Marshall University. If you benefit from The Parthenon's free content, please consider making a donation.