Local residents go 'Over the Edge' for charity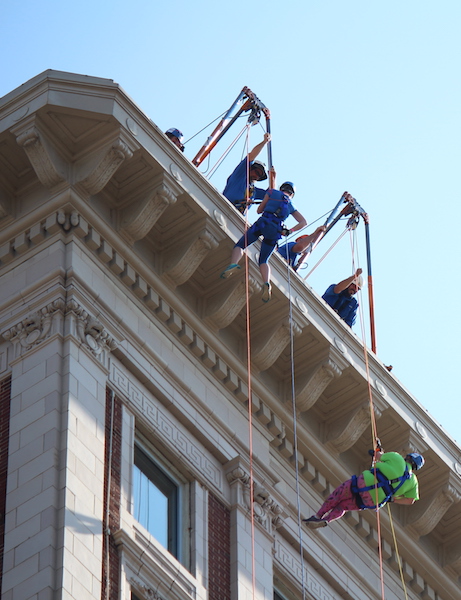 Gina Browning learned only an hour in advance that she would be rappelling down the historic West Virginia Building Saturday during Over the Edge, a fundraising event for United Way of the River Cities presented by St. Mary's Hospital.
Browning, a creative ambassador of Goodwill buzz, said she was afraid of heights prior to her 15-story descent, but had decided Friday she'd like to take the plunge. However, Browning thought it unlikely to become reality under such short notice.
Luckily for her, she was mistaken. Fellow rappeller and CEO of Goodwill Industries KYOWVA Alissa Sparks called Browning at around 8:30 a.m. Saturday to break the news that a new spot had just opened and was hers if she wanted it.
"Somebody had sponsored anybody who wanted to go this morning," Sparks said. "So they said, 'You wanna call Gina?'"
An hour later, both Browning and Sparks were descending from the 200-foot building, the city's tallest, overlooking downtown Huntington.
"She made me put my money where my mouth was," Browning said and laughed.
Browning and Sparks had a number of adjectives to describe their descent, including "frightening" and "exhilarating," but both agreed they'd be willing to take part in Over the Edge again in the future.
Sparks said the reason they wanted to participate is because Goodwill is the largest recipient of United Way funds and the event was an opportunity to partner with another local organization.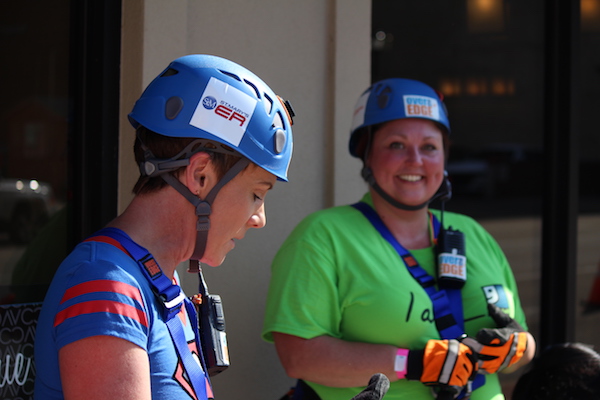 Rappellers like Bill Smith, a 1973 Marshall alum and superintendent of schools for Cabell County, had different reasons for wanting to give back to the local organization. Smith said he took part in Over the Edge because of the contributions United Way of the River Cities has made to the local school systems.
"They're just so great — special — to the school system," Smith said. "The money they invest in activities for kids have meaning to us."
Smith said he hadn't had any rappelling experience since he was a Boy Scout around 50 years ago. While Smith said today's equipment was a bit more sophisticated than it was then, he said organizers made the experience comfortable and he would consider rappelling down the 15-story building again in the future.
Over the Edge is an organization that has had over 500 events and has helped non-profits across the continent raise more than $50 million. After discovering Over the Edge, director of development for United Way of the River Cities said his organization thought it would be a unique opportunity for the city of Huntington.
To rappel down the building, participants were required to raise $1,000, a goal Ward said the prospective rappelers achieved in a number of ways; some simply wrote checks, while others asked friends, family and coworkers to contribute toward the cause. A few participants had more orthodox approaches to the fundraising.
"I think some people had garage sales and some people had bake sales," Ward said. "Old school fundraising."
Ward said the event netted "a little over $30,000" which he said will go "right back into the tri-state community."
United Way is already eyeing another event next year, Ward said, and he recommends anyone interested in going "Over the Edge" begin their fundraising efforts now.
Jared Casto can be contacted at [email protected].
Leave a Comment
Your donation will help continue the work of independent student journalism at Marshall University. If you benefit from The Parthenon's free content, please consider making a donation.