Little Free Library turns a new page for sociology club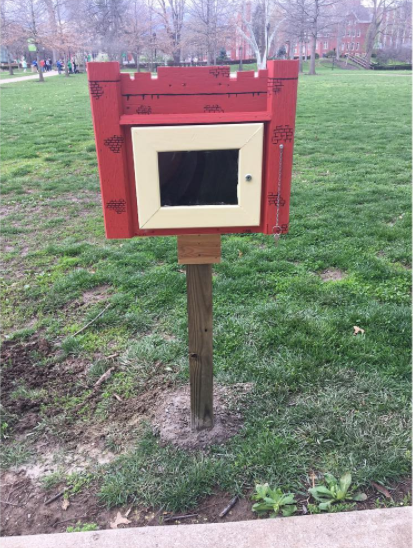 The Society, a sociology club at Marshall University, held an official opening ceremony for a Little Free Library Thursday afternoon.
Marshall University graduate student Danielle Mullins, said the president of The Society, Bri Shelton, works at a public library and is very passionate when it comes to the topic of libraries.
"I think she really wanted to get involved with bringing libraries and making them more accessible, more modern for people to take part in here on Marshall's campus," Mullins said. "She works at the downtown public library and she sees people coming in all the time, but not very many college students because it's on the other side of town, so she wanted to try to bring the library culture over here."
Vice president of The Society, Jamie Herman, said she thinks the Little Free Library is going to help college students keep up with fun reading.
"I know it's hard to find time to read with all your classes and stuff for pleasure, so I think it's going to help people because they can sit and read something for a few minutes, especially when it gets nice out, and then they can just bring the book back or they can bring a different book, so I just think it'll help people read for pleasure more," Herman said.
Mullins said the Little Free Library was put in to increase access to leisure reading for college students.
"College students typically have a very strapped income, so we wanted to open up leisure reading to college students by putting in a Little Free Library here on campus," Mullins said.
Herman said in general the addition of Little Free Libraries helps with literacy as well.
"There are Little Free Libraries all throughout Huntington and West Virginia, which is a very uneducated state in itself, and it really just helps people learn to read more and really become more proficient in their skills," Herman said.
Mullins said she is hoping the Little Free Library will help create a community of readers on campus.
"I mean, the idea about Little Free Library is that people are taking and giving books and so people can share different genres," Mullins said. "They can have the opportunity to explore different genres and, if you really love a book, drop it off and let someone else be inspired by it too."
The new Little Free Library is located on Marshall University's campus on Buskirk field.
Matthew Groves can be contacted at [email protected].
Leave a Comment
Your donation will help continue the work of independent student journalism at Marshall University. If you benefit from The Parthenon's free content, please consider making a donation.