Alpha Xi Delta to hold 66th Annual Strawberry Breakfast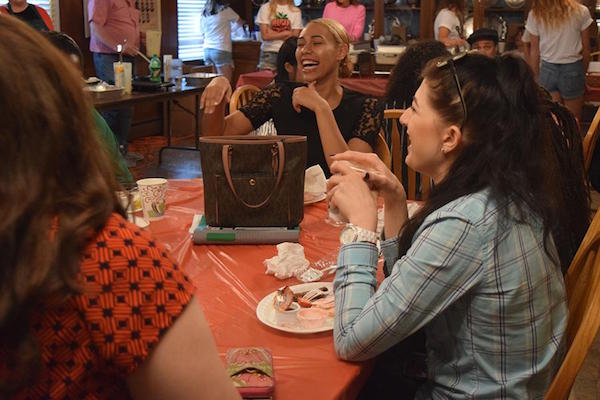 Marshall University's chapter of Alpha Xi Delta is busy preparing for its annual Strawberry Breakfast. This year's breakfast will be held April 20 at the Alpha Xi Delta house.
Alpha Xi Delta's vice president of public relations, Riley Hogan, said the annual breakfast allows Alpha Xi Delta to make connections in many different ways, including more connections in Greek life.
"It's a tradition. This is our 66th year in a row doing it," Hogan said. "It promotes Greek life and Greek unity.  Other Greek organizations buy out tickets from us and we buy tickets for their events too."
Hogan said the Strawberry Breakfast is also a great opportunity for Alpha Xi Delta to have a lot of involvement throughout the community.
"We go around to local businesses and we ask for donations to buy things like the strawberries and the pancake mix," Hogan said.
Alpha Xi Delta President Sasha Tackett said the Strawberry Breakfast is important for Greek life as a whole due to it's long running history at Marshall.
"This is probably the longest event that Greek life has ever had, because we're going on like our 66th year of it and I don't think any other fraternities or sororities have a tradition like this," Tackett said.
Hogan said the Strawberry Breakfast is one way that can bring the Marshall University family together.
"Our students and faculty from all over Marshall's campus come to our house on that day to eat breakfast and get together and hang out," Hogan said.
Aside from just bringing together the Marshall family, Tackett said the Strawberry Breakfast also brings together the Alpha Xi Delta sorority family.
"Mothers come throughout the week that we have it and they prepare strawberry butter, they make the pancakes, they do all the prep work and it's just a time for them to spend with their daughters and the sorority family," Tackett said.
Alpha Xi Delta's Strawberry Breakfast tickets are now available and can be bought for $5 from any member of Alpha Xi Delta. The breakfast will include pancakes, sausage, eggs, biscuits, chocolate-covered strawberries and homemade strawberry butter.
Matthew Groves can be contacted at [email protected]
Leave a Comment
Your donation will help continue the work of independent student journalism at Marshall University. If you benefit from The Parthenon's free content, please consider making a donation.