Manchin makes stop in Huntington for health care town hall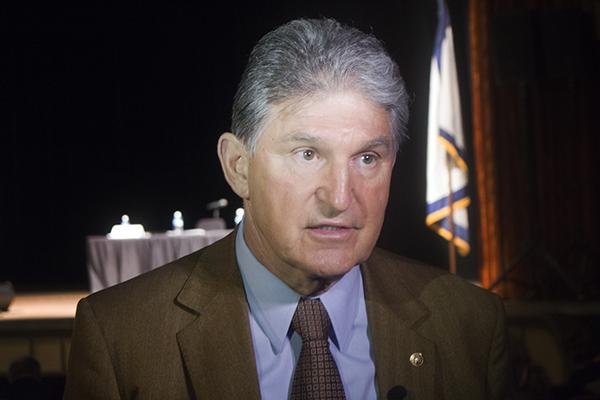 Advertisement
Hang on for a minute...we're trying to find some more stories you might like.
Members of the community gathered Friday at the Keith-Albee Theatre in Huntington for a town hall with senior U.S. Sen. Joe Manchin, D-W.V. The town hall's focus was on healthcare, in reaction to the proposed American Healthcare Act by Republicans in Congress, an act aiming to repeal and replace the Affordable Care Act, known widely as "Obamacare," a legacy from the Obama administration.
"The people of West Virginia have concerns, as many people do," Manchin told reporters. "The Affordable Care Act is something we care an awful lot about. No one really knew what they got until they started talking about taking away."
The new healthcare plan would cause 14 million Americans to lose health insurance by next year, 21 million by 2020 and about 24 million Americans will have lost coverage by 2026, according to the Congressional Budget Office.
Addiction treatment was a top concern for many in attendance, due to the current opioid epidemic in West Virginia. For one mother, it is a concern that hits too close to home.
Leigh Ann Wilson's daughter, Taylor Lee Wilson, was the first of 28 overdoses reported in Huntington in a span of five hours on Aug. 15, 2016. That day was the beginning of what Leigh Ann Wilson called a nightmare.
"The horrors of that afternoon made national news. Reporters left and our nightmare, though, was just beginning," Leigh Ann Wilson told the crowd. "Taylor and I would then spend the next 41 days trying to get help. We drove door to door to each, in search for in-patient treatment beds to isolate her from this heroin world. All we found were waiting lists, out-of-state centers that would not take West Virginia Medicaid and doctors who discouraged Taylor from in-patient treatment, saying that she could do without."
Leigh Ann Wilson said her daughter was put on a waiting list at Prestera for Suboxone, a prescription medication indicated for treatment of opioid dependence.
"Though evidence suggests that a combination of counseling and prescription drugs to reduce cravings can be very effective, our lawmakers have restricted the availability of this medication," Leigh Ann Wilson said. "On Sept. 28, 2016 Prestera called to inform me that Taylor had been accepted into the Suboxone program. I had to tell them that she had died of an overdose three days before."
Manchin lamented the opioid epidemic affecting West Virginia in his speech, while also addressing his commitment to keeping the Affordable Care Act in place.
"I'm asking my Republican friends, please don't vote to repeal," Manchin said. "If you vote to repeal it, I'll guarantee you we won't be able to replace it. We don't have the votes. We're in a toxic atmosphere. You can get rid of it with 51, but you don't have 60 to fix it. Have the vote to fix it first."
Apart from healthcare, Manchin also defended his confirmation picks for President Donald Trump's cabinet, including his vote for Attorney General Jeff Sessions, as well as addressing the environmental concerns West Virginians have.
Franklin Norton can be contacted at [email protected]