Naloxone training saving lives, keeping Marshall safe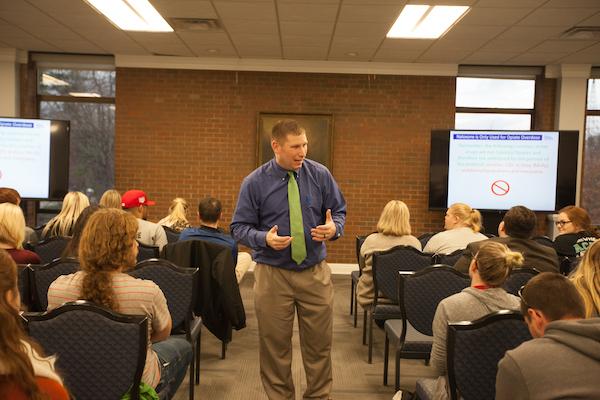 The fact that opioid abuse is prevalent in Huntington is not new to it citizens, but according to Dr. Charles Babcock from Marshall's Pharmacy School, at least 410 people have been saved through the distribution of the drug Naloxone in the Huntington area.
Naloxone is a drug that blocks or reverses the effects of an opioid overdose in an emergency situation in which the user has become unconscious. Students and community members were trained on Feb. 22 in the use of Naloxone and given two doses of the nasal spray free of charge to take home with them.
This was possible through several grants that Cabell-Huntington Health Department received from the companies that create Naloxone, Kaléo and Adapt. Babcock has been helping educate people on the drug and distribute it through the health department weekly on Wednesdays.
"There are so many misconceptions out there about opioid abuse, so it's my goal by doing this training to hopefully give people an appreciation for what a patient in addiction is going through and walk away feeling knowledgeable about it," Babcock said.
The health department began handing out doses through the needle exchange program on Feb. 3, 2016 and other trainings, which has amounted to over 2,000 doses being distributed.
Throughout the training, Babcock continued to remind the audience of the two main steps to saving someone from an overdose: breathe for them and give them Naloxone. Since the drug only has a temporary affect, Babcock said that it is important to call 911 and to stay with the user for at least two hours to see how they are doing when the Naloxone wears off.
"The faster we get it to somebody, the better it works," Babcock said. "The goal of this drug is to get them breathing."
Babcock has taught this state training several times, but has only had to use Naloxone once, in an instance where a man overdosed at the health department about two months ago in which they gave him five doses.
"He came out of it, EMS came and got him and walked him out to the ambulance," Babcock said. "He survived, did well, came back and took my class and took some home with him. He told me that day he was going to start looking for some recovery."
Last summer, Marshall University Police Department went through the training and now carries an auto-injection device, Evzio. According to Police Chief Jim Terry, the department has not had to use Naloxone on any students.
"Up to this point, we've had no student over doses," Terry said. "Even with EMS response time being fantastic, it's an epidemic and we're the first responders there, so it's the proper thing to do for our community."
A similar event to Feb. 22's will be held on March 13 at 7 p.m. in the student center room BE5. Registration is required to attend and those interested can register by emailing [email protected].
Anyone can attend the training at the health department on Wednesdays. The session is about one hour long and attendees will receive Naloxone to take home. Those interested can contact the Cabell-Huntington Health Department for more information.
Heather Barker can be contacted at [email protected].
Leave a Comment
Your donation will help continue the work of independent student journalism at Marshall University. If you benefit from The Parthenon's free content, please consider making a donation.