President Gilbert reacts to State of the State Address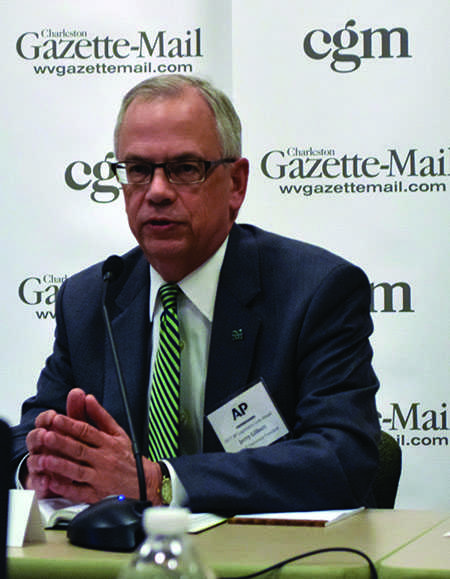 Marshall University President Jerry Gilbert attended the State of the State Address Wednesday at the state capitol where West Virginia Gov. Jim Justice delivered proposals he said he would solve the state's budget crisis.
Justice asked the legislators if they were willing to face the consequences of not balancing the budget.
"Are you willing to eliminate all of our state parks? Are you willing to close down our universities other than WVU and Marshall? Are you willing to turn our backs on seniors and vets? What is West Virginia going to become?" Justice said.
Justice didn't discuss any cuts to higher education within the State of the State Address, however Gilbert learned afterward that part of the governor's proposed budget cuts included a $2.8 million dollar cut to Marshall.
"When I was on the floor I didn't think there would be anything negative, but when I left the floor I found out later that included in the cuts were not an across the board cut which I had assumed when I was sitting on the floor," Gilbert said. "I came to learn afterwards that he singled out both WVU and Marshall for strategic cuts in higher education and no one else. I thought that was a bit unfair."
If the budget cuts that Justice suggested do go into effect, Gilbert said that Marshall will have to look at ways to generate revenue by making changes within the university.
"It's going to mean that we're going to have to look at ways to change some of the things that we're doing with some programs and potentially readjust how we're approaching our instructional delivery, we may have to increase class sizes at the freshman and sophomore levels," Gilbert said.
Senior Vice President of Communications Ginny Painter said that cuts to Marshall like the one proposed by Justice will be damaging to the university.
"The university's been cut over the last several years about $11.5 million dollars from the state's budget, so it's really important that folks understand that we've really gotten to the point that cuts are going to hurt," Painter said.
Despite Justice's proposal, Gilbert said students and faculty should remember these budget cuts aren't set in stone.
"I know that even though the governor proposed what he did last night that the legislature has to buy into everything that he said, so I'm not sure that we should overreact at this point to anything in the governor's budget proposal because it may be very different by the time we see it at the end of the session," Gilbert said.
Justice gave other proposals that he believed would help balance the state's budget, such as raising Division of Motor Vehicles fees from $30 to $50, increasing the sales tax by half of one cent and implementing a 10-cent tax on gasoline.
The governor also said he wants to raise the toll road fees by $1. Residents of West Virginia would pay an $8 fee at the DMV which would allow them to travel on toll roads without having to pay at the tolls.
Justice discussed ways to improve the state's public schools in regards to standardized testing, as well as getting rid of any wasteful agencies.
"I would submit a bill to eliminate any unnecessary bureaucracies. We have got to return education as much as we can to the local level," Justice said. "We are testing our kids totally to death, I am going to propose throwing Smarter Balance in the trash can and we go to ACT testing."
Justice said that he wants to increase marketing for tourism in the state as well as bring manufacturing jobs, such as the forestry industry, furniture manufacturing, flooring and cabinet manufacturing.
Other solutions to the budget crisis that were laid out in Justice's speech include implementing tier severance taxes on coal and gas and appointing a waste czar for the state that would cut waste and find any excess funds within the budget.
Adam Stephens can be contacted at [email protected]
Leave a Comment