Community leader presented first Carter G. Woodson Lyceum award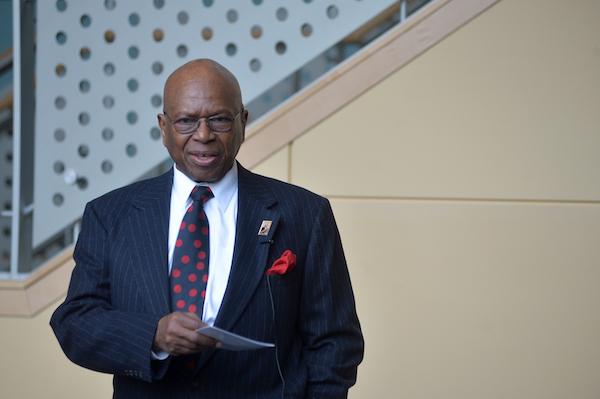 Former Ashland Oil Inc. Foundation President Charles Whitehead was joined by students and staff members in the Drinko Library to answer questions about his days helping the community.
Whitehead helped in fundraising for the Carter G. Woodson Memorial Statue by supporting the Woodson Memorial Foundation. At the conclusion of the session, Whitehead was presented with the first award by the Carter G. Woodson Lyceum.
A panel of students asked questions regarding Whitehead's experience in his line of work, thoughts on education, being a successful African American and encouraging words for the younger generation.
"Education is the gateway to a better life," Whitehead said. "Particularly for me and people like me, we were going to be the best that we could be."
Whitehead shared his personal opinions on how experience is one of the most important things to have when looking for jobs.
Learning to look on a global perspective and taking risks were values that were shared constantly to students and staff.
"Google can tell you the street address, but it cannot tell you what is going on inside the houses," Whitehead said. "It is all about learning to see things from a global level and learning to expand the way you look at things going on around you."
Terick Thomas, director of philanthropy at Marshall, said he couldn't agree more with the words from Whitehead.
"I definitely think that sometimes you do have to run twice as fast to stay even with those working around you," Thomas said. "A lot of times I think we run just to be in the race and not to stay in the race. So when we work hard we should find ourselves at a place to want to work even harder."
Free and open to the public again on Feb. 15 will be "The Emancipation Proclamation as Sacred Text" with Dr. Joseph Tucker Edmonds at 4 p.m. in the Drinko Library Atrium.
Christian Davis can be contacted at [email protected]
Leave a Comment
Your donation will help continue the work of independent student journalism at Marshall University. If you benefit from The Parthenon's free content, please consider making a donation.