Turning Point USA gives conservative students a voice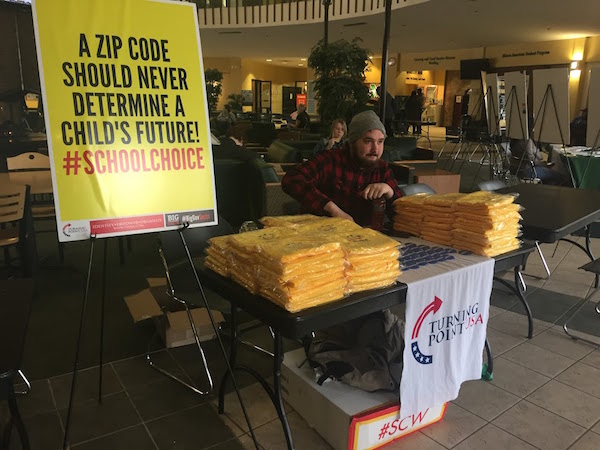 Advertisement
Hang on for a minute...we're trying to find some more stories you might like.
It is no secret that college campuses are full of students who want their voices heard and want to be active politically. Marshall University's chapter of Turning Point USA had an info table set up at the Memorial Student Center Thursday to reach out to students.
According to their website, Turning Point USA is non-profit grassroots organization that encourages students to identify, educate, train and organize to promote principles of fiscal responsibility, free markets and limited government. Student leaders and activists work to identify young conservative values and engage in face-to-face and peer-to-peer conversations about political issues.
Former Marshall University student Spencer White started the Marshall chapter in the spring of 2015 to give students a chance to express themselves.
"We're giving a voice to these students to be able to promote what they believe without having to go to any means that aren't necessary," White said.
Marshall student Sarah Starkey was interested in the table and asked to learn more about their organization. Starkey said she leans towards being a libertarian and that it is up to us to determine what the future will look like for the next generation.
"We're the future. Ultimately we determine what our children and our children's children are going to be doing and I don't feel like previous generations thought about what we're going to be handling and dealing with in our 40s, 50s, 70s," Starkey said. "It's important. This is our future and we're the only ones who can prevent or promote what we want."
White said he believed that students who sometimes have unpopular opinions about politics on campuses don't always have the same opportunity as other students to voice their beliefs.
"We're tired of always being put in the backseat and not allowed to be who we are and not allowed to talk about how we feel," White said.
White said they will have an information table set up in the student center every week to try and reach students on campus.
Turning Point USA was founded on June 5, 2012 by Charlie Kirk and has over 350 chapters on universities throughout the United States. They also provide sound bites and educational resources and host a series of training conferences.
Their next conference will be the 2017 Young Women's Leadership Summit in Dallas from June 15 to June 18 this summer.
Adam Stephens can be contacted at [email protected]