Carter G. Woodson Lyceum established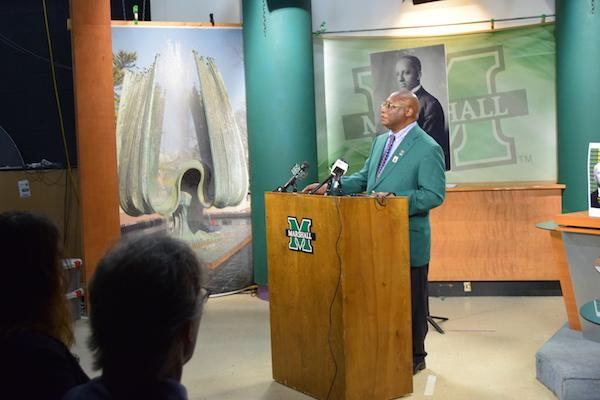 In conjunction with the W. Page Pitt School of Journalism and Mass Communications and the John Deaver Drinko Academy, Marshall University announced the formation of the Dr. Carter G. Woodson Lyceum Friday afternoon. The lyceum hopes to reconnect the city of Huntington with Woodson, the man regarded as the father of Black History Month.
Carter G. Woodson professor Burnis Morris made the announcement regarding the university's plans for the lyceum. Morris said he is excited to see his and the university's hard work pay off.
"This is a big deal for us," Morris said. "They really don't have anything like this in West Virginia. There are a few Woodson institutes, but they're not trying to accomplish what we are."
The goal of the lyceum is to educate teachers and professors in the state on Woodson and black history. As a result, Cabell County Schools and the Marshall College of Education have teamed up with Morris and the Carter G. Woodson Foundation to help make educational materials and training more accessible to professors and teachers.
In a media release, the organization announced the West Virginia Humanities Council awarded the lyceum a $20,035 grant for "The Dr. Carter G. Woodson Lyceum's Summer Program for Black History Instruction." The summer program runs over a four-day period and includes classroom education sessions and tours of black history sites.
"One of the things that's an advantage is the technology," Cabell County Schools Superintendent William Smith said. "We have lesson plans that are online and mechanisms for teachers to teach other teachers what they are doing. It starts with 20, but I think it will spread from Milton Elementary School to Milton High and teachers can talk to each other and other teachers around the district."
The lyceum also serves as a memorial to Woodson and his work. Woodson, a former West Virginia coal miner, was born in Huntington and later became the second African American in Harvard University history to receive a Ph.D. Woodson was also the first ever person to receive a doctorate whose parents were former slaves.
"He was one of the most significant figures of the 20th century," Morris said. "He was one of the best-known African Americans in the world during the first half of the 20th century. It's a shame so few people know of his work now. He created an organization in 1915 that is still going strong and contributing to integrating black history into all history books."
Woodson's impact is still felt today. He is responsible for founding the Journal of African American History, as well as The Black History Bulletin. In 2015, the Drinko Academy at Marshall University honored Woodson during Black History Month. The following February, Huntington Mayor Steve Williams, along with members of the West Virginia state government, christened Feb. 5 "Dr. Carter G. Woodson Day," with then-Gov. Earl Ray Tomblin issuing a state proclamation in Woodson's honor.
"Once again, this puts Marshall University on the map," Provost and Senior VP for Academic Affairs Gayle Ormiston said. "Carter G. Woodson needs to be recognized a major educator, major thinker in black history, along with W.B. Dubois, Booker T. Washington, even more contemporary thinkers such as Cornell West. I think understanding Woodson's contributions to black history is important to American history."
Morris will serve as the chair of the lyceum going forward. The lyceum's first event will be a private event on Feb. 1, where Mayor Williams is expected to announce the day as Carter G. Woodson Day.
Jake Griffith can be contacted at [email protected].
Leave a Comment
Your donation will help continue the work of independent student journalism at Marshall University. If you benefit from The Parthenon's free content, please consider making a donation.