Editorial: What the NFL is doing wrong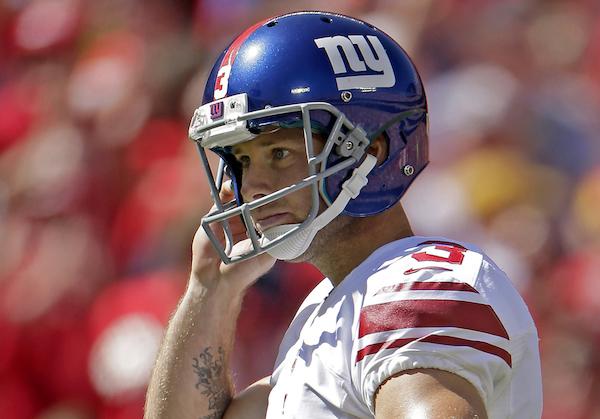 October is Domestic Violence Awareness month and a prime time for NFL. Recently, New York Giants kicker Josh Brown admitted to physically abusing his now ex-wife in a journal.
Brown was taken into custody in May 2015 after an incident with his then wife. As of September 2016 no charges have been filed. In documents released last week that showed Brown admitted to abusing his wife, he talked about how he felt entitled. He said he viewed himself as God and his then wife as a slave.
According to ESPN, in August, Brown was suspended for one game for violating the team's "personal conduct policy," but the Giants did not say directly what that was. We can only assume it was his arrest in May for abusing his then wife. At this point, the documents with Brown admitting to the abuse were not yet released.
ESPN also said on Oct. 21 that Brown was placed on the commissioner's exempt list. The NFL defines the exempt list as:
"The Exempt List is a special player status available to clubs only in unusual circumstances. The List includes those players who have been declared by the Commissioner to be temporarily exempt from counting within the Active List limit. Only the Commissioner has the authority to place a player on the Exempt List; clubs have no such authority, and no exemption, regardless of circumstances, is automatic. The Commissioner also has the authority to determine in advance whether a player's time on the Exempt List will be finite or will continue until the Commissioner deems the exemption should be lifted and the player returned to the Active List."
Brown will still be collecting up to a $1.15 million salary while being on the exempt list. Brown can still be in the Giants stadium, but "for meetings, individual workouts, therapy and rehabilitation, and other permitted non-football activities."
Why isn't the NFL taking domestic violence serious? While they are painting their stadiums and players pink for breast cancer awareness in October, they should be more concerned about the players abusing their spouses.
According to Business Insider, for every $100 of pink merchandise sold, only $11.25 goes to the American Cancer Society. While every little bit helps, they are still allowing players who beat their wives to play and earn million dollar salaries. Maybe for a few games they should paint the stadium purple, as a reminder to players to not hit women.
The NFL has dealt with domestic violence issues for years, and they still handle them like shit.
In February of 2014, a video of Ray Rice, former Baltimore Ravens running back, was released showing him dragging his unconscious now wife, who was then his girlfriend, out of an elevator. Rice had knocked her unconscious in the elevator.
NFL commissioner Roger Goodell said he handled Rice's case wrong and vowed the same mistakes would not happen again after failing to suspend Rice immediately. The video of Rice dragging his unconscious then girlfriend out of the elevator surfaced Feb. 19, 2014. The NFL claimed they had not seen the full video and Rice had told them a different account of what had happened. On July 24, 2014, Rice was finally suspended, but only for two games. A full video of the encounter, including video of Rice punching his then girlfriend in the face hard enough to knock her unconscious was released on Sept. 8 and Rice was indefinitely suspended by the NFL the same day. Finally.
The NFL put off handling it and gave a measly suspension, because, who knows, he didn't hit her hard enough to be completely suspended or some crap excuse. The NFL also said they did not know about the abuse caused by Brown or that he had a history of it. But that's a lie. The night before the Pro-Bowl, Brown had too much to drink and was pounding on his then wife's hotel room door and was going through her phone looking at her texts. NFL security moved her into a new room where Brown did not know where she was. That is considered harassment.
So what we can learn from the NFL with just these two cases is that, unless something serious happens, players can get away with pushing and bruising their spouses. So next time you sit down to watch a full day of football on Sunday, think about how many of those players have beat their wives/girlfriends and are still making millions of dollars because the NFL just does not want to deal with it.
Leave a Comment
Your donation will help continue the work of independent student journalism at Marshall University. If you benefit from The Parthenon's free content, please consider making a donation.