Alpha Chi shines a light for domestic violence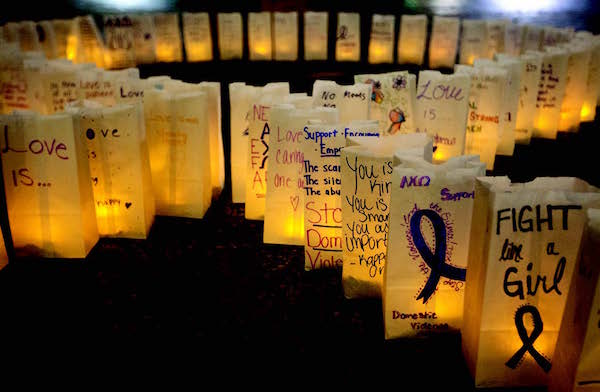 Marshall University's chapter of Alpha Chi Omega's third annual candlelight vigil took place Thursday to raise awareness for National Domestic Violence Awareness Month.
The vigil took place at 7:30 p.m. on the Memorial Student Center plaza.
Maddie Hall, Alpha Chi's philanthropy vice president, said there are cases of abuse in the United States every 15 seconds.
"A lot of times it happens behind closed doors and we are just trying to get out there and make people aware that this happens," Hall said. "It's a huge problem that is constantly happening where there is never a resting moment for it."
Hall said the candlelight vigil gives them a chance to not only remember those who lost their lives to domestic violence, but also those who are still affected by it.
Makenzie Jurin, junior health science major and a member of the sorority, said awareness is important because society doesn't always take domestic violence as seriously as it should.
"It happens to a lot of people we personally know," Jurin said. "I think it's important to show the people who have been through it, that it's okay to speak up and tell people about it instead of hiding behind the curtains."
Speakers from Branches, a local domestic violence shelter, and a Marshall University police officer were at the candlelight vigil to talk about matters concerning domestic violence.
Participants also released paper lanterns into the air with messages as a beacon of hope.
"Domestic violence is not something you can see everyday, and no one deserve to be in a relationship that they don't feel safe in," Hall said.
Kessyl Lim can be contacted at [email protected]
Leave a Comment
Your donation will help continue the work of independent student journalism at Marshall University. If you benefit from The Parthenon's free content, please consider making a donation.