Stadium fire ruled arson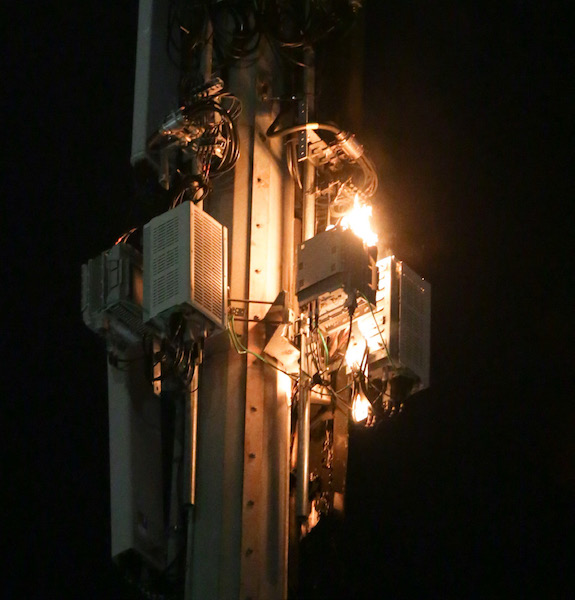 Marshall University students and staff awoke Monday morning to strange news — the Joan C. Edwards Stadium had suffered fire-related damage during the overnight hours.
According to Huntington Fire Department's Jan Rader, the fire initially started at the base of a light pole on the East side of the stadium. The fire was started inside of a port-a-potty at the base of the light pole.
The fire then completely engulfed the structure, climbing up the electrical wiring, igniting the antenna array on the pole closest to the Shewey Building.
While there are plenty of questions still left to be answered, the West Virginia Office of the Fire Marshal officially ruled the fire as arson and subsequently launched an investigation, offering a $5,000 reward to anyone with information regarding who perpetrated the act.
The initial attempts to put the fire out were stopped almost as soon as they began. Crews were locked out of the stadium and had to await the arrival of Appalachian Electric and Power in order to cut the power to the sparking, live wires.
Power ended up being out for several hours, impacting the Marshall Sports Medicine Institute and Chris Cline Athletic Complex
Two other port-a-potty fires were started in the vicinity of The Joan, both at Dot Hicks Field, home of the Thundering Herd softball team. Three suspicious fires in empty structures prompted the state fire marshal to declare the fire an arson Monday.
According to Tim Chastain, an investigator with the state fire marshal's office, total damages are estimated well into the thousands of dollars. That estimate is before cellular provider nTellos has evaluated the amount of damage their wiring suffered.
Before any other events can take place at the stadium, an engineering crew and electrician must check the structural integrity of the pole and the light bank. As a result, Marshall's Conference-USA matchup at home against Charlotte, a 5:30 p.m. start, is now in doubt.
The West Virginia State Fire Marshal and Marshall University police will be a part of a joint investigation as the university looks to find those responsible.
Jacob Griffith can be contacted at [email protected]
Leave a Comment