Loving Appalachia showcases West Virginian roots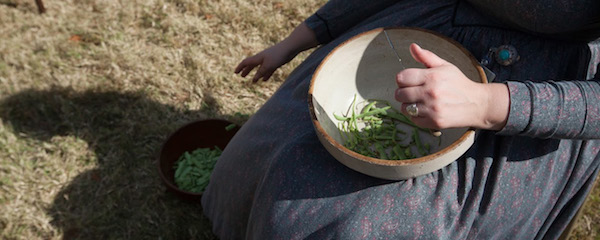 Appalachia. To some, that word means "home," and to others, it means pepperoni rolls, Mothman and banjo music. Today, the region is home to about 25 million people stretching from southern New York and Pennsylvania to Alabama and Georgia. For many years, central Appalachia has a strong association with the time-honored vocation of coal mining and subsequent poverty due to a decline in the coal industry.
Marshall University's Housing and Residence Life, INTO Marshall and the Appalachian Studies Association aimed to celebrate and highlight the contributions of West Virginian heritage.
Monday, the third annual Loving Appalachia: Celebrating West Virginia Heritage Festival welcomed local artists, state tourism promoters and informational organizations to showcase several prominent aspects of West Virginian heritage and culture.
President Gilbert, no stranger to a culture heavily influenced by the past, said some aspects of West Virginia reminded him of Mississippi.
"I love everything Appalachian," said Gilbert. "West Virginia is more Scotch-Irish than Mississippi, but I think it's great we can feature [the heritage] here on campus to teach kids who aren't from this area."
"I think lot of students come to Marshall and don't really leave the area around campus; we'd love for students to come to the Huntington Museum of Art, Heritage Farm Museum and Village or going to the West End and enjoying the farmer's market and antique mall," said the visitor liaison for the Cabell-Huntington Convention and Visitors Bureau, Angelo Fioravante. "There's so much about Huntington that takes place off campus."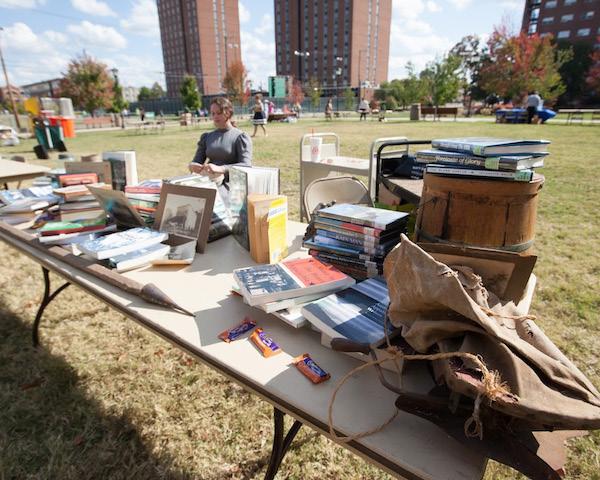 Fioravante said he thinks West Virginia is a place you can go outside and play in, especially since Huntington was recently recognized as a "Playful City" by KaBOOM, a non-profit organization that encourages balanced and active play for kids across America. With different awards like that, he said the community is starting to realize how much they have available to them.
Along with playing in Appalachia, locals can also learn about their heritage through the mobile app Clio. Hailey Horn, an AmeriCorps member for Clio, believes events like "Loving Appalachia" and apps like Clio can help students learn about the areas they live and travel in.
"It was developed here at Marshall, and universities, libraries and CVB's all over the nation are starting to use [Clio]," said Horn. "[It's] a history app that uses your phone's GPS to show you the historical landmarks around you, even if they don't exist anymore."
"I'm utilizing Clio to tell the true history of Appalachia," Horn said. "Yes, there are stereotypes, but I'm trying to document the oral histories that are central in our culture and show people why West Virginia and Appalachia are so amazing."
One of the unique facets of West Virginia is the glass-blowing industry, made famous by local factory Blenko Glass Company in Milton, West Virginia. Marshall Housing and Residence Life sponsored a raffle for one of Blenko's classic water bottles and a set of marbles.
"I think this [event] encourages students to explore the heritage of the state," said Hannah Smith, a junior biochemistry and anthropology major and R.A. for Holderby Hall. "I think a lot of people ignore it or don't realize how rich it is, to get involved and see what the state has to offer past and present."
Smith said she realized there were a lot of stereotypes about Appalachian culture, but she is encouraged by seeing people rally around the heritage and cherishing it.
One of those people is Jane Gilchrist, a heritage educator on weaving and spinning at Heritage Farm Museum and Village. Gilchrist also showcases her work at the Tamarack in Beckley, West Virginia.
"I love celebrating our textile heritage and sharing it with the future generations," Gilchrist said.
On a field trip to a historic landmark in second grade, Gilchrist came home and told her mother she wanted to be a weaver and a spinner.
As an adult and mother of five children, she tried to learn weaving, but could not find the time. When her youngest child went to college, she found a guild and learned the craft.
"I think people have an appreciation for the textile art, but from a distance," said Gilchrist. "I want to take a traditional craft in Appalachia, a traditional craft worldwide, and use it to solve a problem."
Gilchrist, as Heritage educator, teaches others, and she demonstrates the weaving and spinning process at the artisan center in Heritage Farm Museum and Village.
"I want to embrace the culture that got us to where we are, celebrate it, and figure out how you can honor it and move forward," said Gilchrist.
President Gilbert, on countless occasions, has used the words of the university's namesake, John Marshall, to encourage the community in the future. He believes part of the future is learning to preserve the past that has brought the community to where they are today.
"Events like Loving Appalachia educate us in a very valuable way," said Gilbert. "And it really depends on how people receive that can really show the positive aspects of the local heritage."
Brooke Estep can be contacted at [email protected]
Leave a Comment
Your donation will help continue the work of independent student journalism at Marshall University. If you benefit from The Parthenon's free content, please consider making a donation.