'Ask the Chiefs' lunch addresses community concerns about police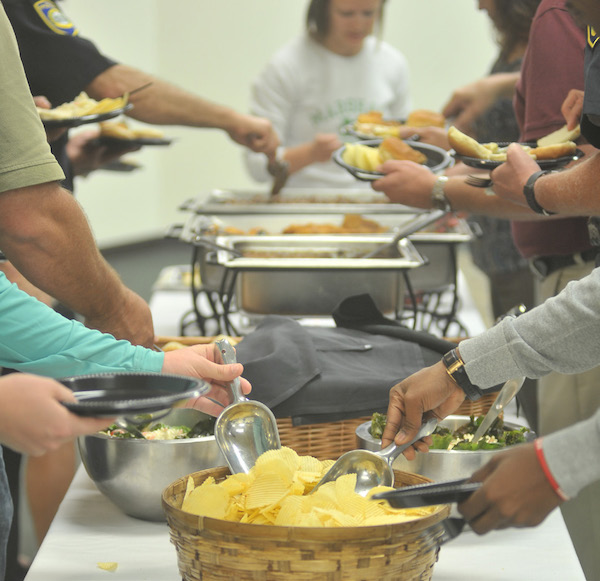 Marshall University held an "Ask the Chiefs" luncheon Thursday in the Memorial Student Center, where Marshall students and members of the public could come out and enjoy lunch with police chiefs from surrounding areas while discussing hot topics involving law enforcement.
The idea behind the luncheon was to amplify the relationships between students and legal authorities in the community, allowing for better understanding of both sides.
"I wanted to come out to this today because of all the issues that have been happening recently involving law enforcement," Christian Moore, junior psychology major, said. "I was interested in both perspectives. It's not everyday we get to hear opinions of the police, we typically just hear what the public has to say."
Chiefs and other law enforcement officials from areas including Huntington, Barboursville, Milton and Marshall University Police Department were set up in a panel-like atmosphere, making their own comments and answering questions from the audience.
"I've been wondering how Huntington and surrounding areas are taking precautions by keeping the public in mind, because I know that lately so many legal officials are being accused of acting on fear," Moore said.
Although the subject of law enforcement is touchy for some, the legal officials that were gathered at the luncheon did their best to assure they are only here to maintain the safety of our communities.
"A lot of shooting situations that have happened in the United States recently have involved police officers putting themselves in bad situations where they have no choice but to use deadly force," said Chief Joe Ciccorelli of Huntington Police Department. "All of us police officers are lumped together as one. If one makes a certain choice, that action is reflected up on all of us."
Several audience members brought up the subject of safety and asked the panel what they do to actually keep themselves safe.
"For me, it's not thinking about my own personal safety. I'm just going to the next call. The safety of the public is my main concern," Chief Michael Coffey of Barboursville Police Department said.
Huntington Mayor Steve Williams also attended the event.
"We can't have a community that doesn't support the police department, or that doesn't support law enforcement. It's our responsibility as a whole be reaching out and assuring that we stand together as a community," Mayor Williams said.
Jordan Nelson can be contacted at [email protected].
Leave a Comment
Your donation will help continue the work of independent student journalism at Marshall University. If you benefit from The Parthenon's free content, please consider making a donation.