Ceremony to remember, honor 75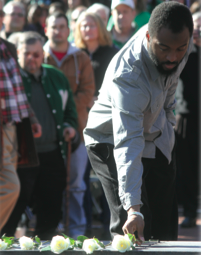 Marshall University students and members of the community will remember the lives lost in the 1970 plane crash at the 44th annual Memorial Fountain Ceremony at noon Friday on the Memo-rial Student Center plaza.
Members of the football team, Mr. and Miss Mar-shall, Sigma Tau Gamma Fraternity and members of SGA will lay roses in honor of the 75 players, coaches, staff and supporters who died Nov. 14, 1970.
The keynote speaker for this year's ceremony is Tom Shoebridge, brother of Thundering Herd quarterback Ted Shoebridge, who was on the plane when it went down.
"He would be unbelievably proud of how Marshall has grown, both athletically and academ-ically," Tom Shoebridge said.
Lila Mangus, student body vice president, said SGA hopes students, faculty, staff, Huntington resi-dents and anyone else affected by the crash will be in attendance at the ceremony.
"I hope everyone that can attend, will attend," Mangus said. "This is what brings everyone to-gether. Even though they are gone, we will honor them."
Hannah Sayre can be contacted at [email protected]
marshall.edu.