Dr. Dekay's House of Screams partners with Ro-Na Theater in Ironton
More stories from MacKenzi Kyle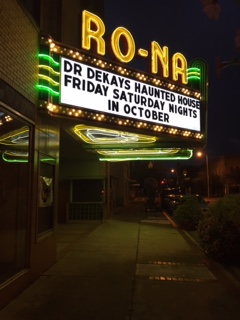 After a rainy opening weekend at Dr. Dekay's House of Screams, workers found a lost shoe that must have been left behind during one of the tours, prompting the joke that this year's tour will scare attendees out of their shoes.
Dr. Dekay's House of Screams has joined with the Ro-Na Theater in Ironton, Ohio to put on a Halloween haunt for only the bravest visitors.
"There's actually stories of it being haunted," said Alice Williams, business manager for Dr. Dekay's House of Screams.
The Ro-Na Theater was built in the late 1940s and has since fallen into disrepair.
Dr. Dekay's House of Screams started out as a small Halloween party for a local Boy Scout troop. With the help of Paul Smith, 11 years later it has grown into a full Halloween attraction.
"Paul Smith started this dream when he was about 12," Williams said.
Smith, although a private person, said haunting is his passion. Smith attends conventions and workshops in Columbus to learn new makeup and special effects techniques to use in the haunted house. Smith loves to learn things that will help the house become scarier.
Smith began to dream of growing up and building his own haunted house. Dr. Dekay's House of Screams is the product of Smith's dream.
"It takes about a month to build it up and put it all together," Williams said. "He has created it. He does it and does a good job at it."
The House of Screams is open every Friday and Saturday night in Oct. from 8 p.m. until 1 a.m.
The haunted house cost of admission is $20 and includes the House of Screams haunt, as well as Haunted Tunnel, hosted by the Lions Club of Lawrence County.
"
"We scared someone so bad, they walked out of their shoes.""
— Alice Williams
"We have a shuttle going back and forth every 20 minutes," Williams said. "I think it works out pretty good. Two haunts for one price."
Dr. Dekay's House of Screams will also be the centerpiece of the Ironton Halloween Street Party the weekend of Oct. 30. The Planet 97.2-FM Blood and Brews party will include craft beer tastings, admission to the House of Screams and the Haunted Tunnel, a hearse display by the Charleston hearse club, and live music.
The festival will start on Friday night with performances by Bobaflex, Split Nixon and Highly Suspect. The festival will continue with a costume contest and a concert by The Menus. Tickets to the Blood and Brews festival are $35 and can be purchased on beerfests.com.
Dr. Dekay's House of Screams promises a night of fun and fright, but let the faint of heart be warned.
"We scared someone so bad, they walked out of their shoes," Williams said.
MacKenzi Kyle can be contacted at [email protected]
View Comments (4)
Your donation will help continue the work of independent student journalism at Marshall University. If you benefit from The Parthenon's free content, please consider making a donation.