32nd Annual ChiliFest to heat up Pullman Square
More stories from MacKenzi Kyle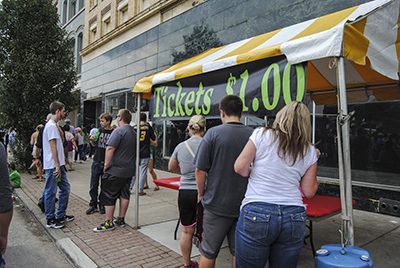 Locals are set to take part in the World's Chili Championship qualifier as part of the city of Huntington's 32nd annual Chili Fest in Pullman Square this Saturday, Sept. 12.
In 1983, Ron Smith wanted to bring business to his restaurant, Chili Willi's, and also try to bring something he felt the city was lacking.
Smith said that he wanted to "actually bring chili cooking, competitive chili cooking to Huntington," so Smith started Chili Fest. The first Chili Fest consisted of eight chili-cooking teams and has grown today to host over 40. Chili Fest is now part of the International Chili Society, a non-profit organization that runs chili cook-offs and helps to benefit various charities. The winner of the ICS cook-off will go on to represent West Virginia in the World's Chili Championship this October in Reno, Nevada.
The ICS cook-off is one of two competitions that are taking place during the festival. The second event is the People's Choice, where local groups have their best chili judged by festival attendees.
Chili sample tickets can be purchased for $1 a piece or six for $5. The team that collects the most sample tickets is named the People's Choice.
This year, many local groups including Cabell Huntington Hospital, news station WSAZ, the Huntington Fire Department and several others will participate in the People's Choice cook-off. Proceeds from the sample tickets go to support Huntington's Ronald McDonald House. Chili Fest has raised nearly $600,000 over the past 31 years for Ronald McDonald House Charities.
Chili fest consists of more than just competition red chili, chili verde and salsa. The bravest guests can take part in a variety of unique contests, including beer chugging, hot pepper eating and a tequila "Shoot 'N Holler" contest.
The hot pepper eating contest invites anyone over the age of 18 to eat as many pickled jalapeño peppers as they possibly can in 2 minutes time. The highest number of pickled jalapeños eaten in the 2 minute timed contest is 39.
"I guess people like to see people in pain." Smith said.
The beer chugging and Shoot 'N Holler contests are open to any guests over the age of 21. Those wanting to compete in these contests may sign up the day of the festival.
Younger guests can enjoy the Marshall Health Kids Corner from 11 a.m.-4 p.m. with a variety of kid-friendly activities.
The festival will also feature live music. Performing bands include Hammertown, a bluegrass band from Kentucky and City Heat, a local R&B band.
Entrance to the festival is free for all and lasts from 11 a.m. to 6 p.m. on Saturday.
MacKenzi Kyle can be contacted at [email protected]
Leave a Comment
Your donation will help continue the work of independent student journalism at Marshall University. If you benefit from The Parthenon's free content, please consider making a donation.