Harmonica Club performs at Pullman Square
More stories from Casey Adkins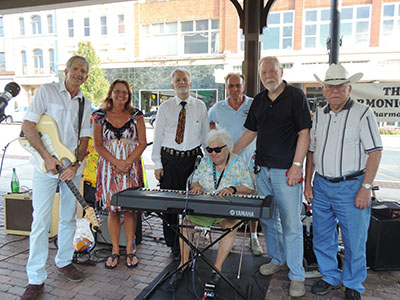 Residents from the Tri-state met at Pullman Square to listen to the Harmonica Club yesterday.
The group was comprised of not only harmonicas, but also a drummer, lead guitarist, keyboardist and a bassist.
From 7 P.M. to 9, the group started out with some traditional music and ended with more contemporary tunes.
"We play all types of music, but the style changes based upon what musicians show up and the type of crowd", said Jim Rumbaugh, head of the Harmonica club. "The rowdier the crowd, the rowdier the music," Rumbaugh added. People of all ages attended the performance yesterday, as well as a variety of other musicians.
"When we get to a live performance, we try to give every singer a chance to sing. This gives a wider variety and puts less work on them," Rumbaugh said.
Toward the close of the performance, Rumbaugh invited a member of the audience on stage to play along with their own guitar. He then showed him some basic harmonica techniques, calling it a "five-minute harmonica lesson".
The Harmonica Club was founded in 2001 so people could learn how to play the harmonica. All musicians are welcome to join. "Everyone is allowed to play in the club, but not everyone is allowed to play loud," Rumbaugh joked.
The Harmonica Club meets every Tuesday night from 7 P.M. to 9 P.M. at Gino's Pub on 5th Avenue. The goal of the club is to be able to play and practice the harmonica in a musical setting.
"
"The rowdier the crowd, the rowdier the music.""
— Jim Rumbaugh
"As long as you have something to offer people, people will show up to get what you have to offer," Rumbaugh said. "I would to see more people come and learn how to play. We love to have beginners."
For 14 years, the Harmonica Club of Huntington, West Virginia has been training beginning musicians into experienced harmonica players.
"This has now become a group of people that are like my family," Rumbaugh said.
For more information, visit theharmonicaclub.com.
Casey Adkins can be contacted at [email protected]
Leave a Comment
Your donation will help continue the work of independent student journalism at Marshall University. If you benefit from The Parthenon's free content, please consider making a donation.