Grand Opening of Marshall Sports Institute
More stories from Matthew Prandoni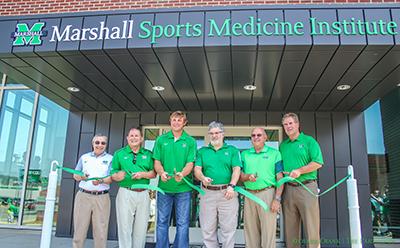 The final part of the Chris Cline Athletic Complex, the Marshall Sports Institute, had its opening on Sunday. Sept. 6. The event led into Marshall University Thundering Herd-Purdue Boilermakers football game.
The Institute cost 35 million dollars and is included as a part of the Marshall University Athletics Vision Campaign.
The Marshall University Athletics Vision Campaign stated in 2011. Formal Marshall athletes, Chad Pennington and Mike D'Antoni, are spearheading the campaign
"This facility is simply as someone said 'the region's game changer'." Mike Hamrick, Marshall University Director of Athletics said. "This was a dream of many and it's come true today."
"Before this year, we didn't have physical therapy, we didn't have the equipment and we didn't have the hydrotherapy unit that we have in there. We really went from nothing to probably having the best sports medicine in the country or of any school I have seen." Hamrick said.
"
"It's a great facility. Bar none one of the top facilities within the country."
— Chad Pennington
"It's a great facility. Bar none one of the top facilities within the country," former Herd quarterback, Chad Pennington said. "It helps us complete the circle for the student athlete where now each young man and young woman can feel confident that they can feel successful on and off the field."
"The facility is a game changer for our athletic department, for all our programs to recruit student athletes as well as it's a game changer in the region to serve to, so it's both within the university and outside the university." Pennington said.
"This place this complex is the epitome of what Dr. Kopp believed in" professor of Sports Medicine, Dr. Charles E. Giangarra said. "He believed in athletics and academics and this place is athletics and academics."
The Institute features an indoor practice facility for the athletic component of the plan, as well as classrooms in the facility to help athletes and others involved with the program.
In addition, the Institute features an x-ray room and a physical therapy area with weight equipment.
Some of the weight equipment in the institute can be also seen in Marshall's Rec Center. "The difference is specialists that work in the facility. All of this equipment is pretty standard in a lot of gyms," said Shawn Bastin, the Executive Director of Rehabilitation. "We have professionals that are specializing in sports medicine whether that it's physical therapists or athletic trainers. We utilize this as a tool to help train or help heal an athlete."
The 22,500 square foot facility is located 2211 3rd Ave.
Matthew Prandoni can be contacted at [email protected].
Leave a Comment
Your donation will help continue the work of independent student journalism at Marshall University. If you benefit from The Parthenon's free content, please consider making a donation.